NASA's Mars Perseverance Rover passes flight review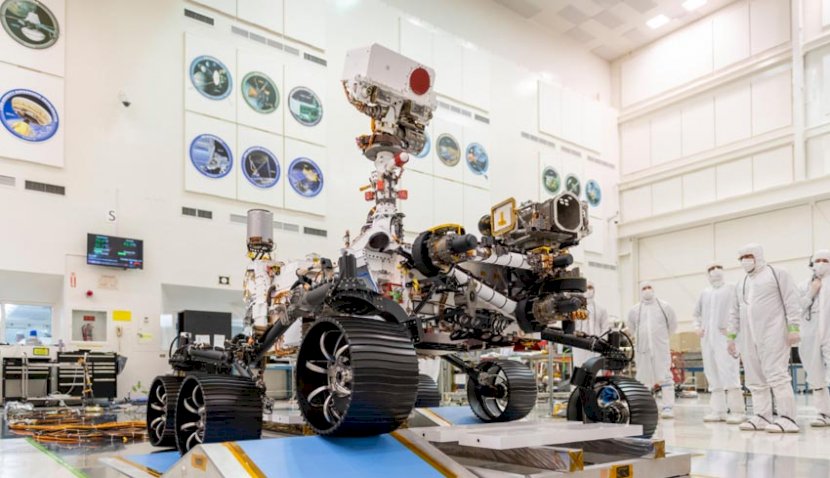 NASA's Mars 2020 Perseverance rover mission has successfully cleared its Flight Readiness Review, an important milestone on its way to the launch pad, ahead of launch expected later this month.
The meeting was an opportunity for the Mars 2020 team and launch vehicle provider United Launch Alliance to report on the readiness of the spacecraft, along with the Atlas V rocket, flight and ground hardware, software, personnel, and procedures ahead of the proposed launch window on Thursday, 30 July. 
With all the connections between the spacecraft and Atlas V launch vehicle complete, the majority of business remaining for Mars 2020's Assembly, Test, and Launch Operations (ATLO) team involves checking out every one of the multitude of systems and subsystems onboard the rover, aeroshell, cruise stage, and descent stage.
NASA administrator Jim Bridenstine explained, "Our deepest thanks go to the many teams who have worked so hard to get Perseverance ready to fly during these challenging times. 
"This mission is emblematic of our nation's spirit of meeting problems head-on and finding solutions together. The incredible science Perseverance will enable and the bold human missions it will help make possible are going to be inspirations for us all."
The spacecraft and launch teams have one more major review to complete. Scheduled Monday, 27 July, the Launch Readiness Review is the last significant checkup before the mission receives final approval to proceed with launch.
Lori Glaze, director of the Planetary Science Division at NASA Headquarters in Washington, added, "NASA can't wait to take the next steps on the surface of Mars with Perseverance. 
"The science and technology of this mission are going to help us address major questions about the geologic and astrobiologic history of Mars that we've been working on for decades, and we're excited to take the whole world with us on this journey."
The Perseverance rover's astrobiology mission will search for signs of ancient microbial life – it will also characterise the planet's climate and geology, pave the way for human exploration of the Red Planet, and be the first planetary mission to collect and cache selected samples of Martian rock and regolith (broken rock and dust).
Subsequent missions, currently under consideration by NASA in co-operation with ESA (European Space Agency), would send spacecraft to Mars to collect these cached samples from the surface and return them to Earth for in-depth analysis.
JPL, which is managed by Caltech in Pasadena, is building and will manage operations of Perseverance for NASA. The agency's Launch Services Program, based at the agency's Kennedy Space Centre in Florida, is responsible for launch management.
The Mars 2020 mission with its Perseverance rover are part of America's larger moon to Mars exploration approach that includes missions to the moon as a way to prepare for human exploration of the Red Planet.
Charged with sending the first woman and next man to the moon by 2024, NASA will establish a sustained human presence on and around the moon by 2028 through NASA's Artemis program.
Receive the latest developments and updates on Australia's space industry direct to your inbox. Subscribe today to Space Connect here.
Website Notifications