The fragment, known as "Black Beauty", is thought to be the oldest ever discovered on Earth after it was found in the Sahara Desert in 2011.
The origin crater has now been named after the WA mining town of Karratha, in keeping with naming conventions that state small craters must be named after cities with fewer than 100,000 residents.
The team's motivation for the research was to find out more about the early formation of planets and the geological history of both Mars and Earth.
"We know very little about the early evolution of planets, including the Earth," said lead author Dr Anthony Lagain, from Curtin's Space Science and Technology Centre.
Earth's plate tectonics and erosion make it very difficult to analyse old rock samples.
On Mars however, there are far less of these issues, with Lagain stating that "Some minerals in the meteorites are as old as 4.5 billion years old, so pretty much the age of the planet itself."
The meteorite contains igneous material from Mars and has been dated to be approximately 4.5 billion years old.
"Black Beauty" was most likely expelled from its resting place on Mars by an asteroid impact on the surface of the planet somewhere between five to 10 million years ago, before coming to rest on earth.
The meteorite's site of origin was identified as a crater on the southern hemisphere of Mars in a region known as the Terra Cimmeria-Sirenum province.
The research team used a machine learning AI algorithm as a crucial part of the study. The AI analysed both the size and distribution of over 94 million impact craters on the surface of Mars.
To analyse these craters, the team fed images and data captured by the Mars Reconnaissance Orbiter's context camera to the AI.
After narrowing down the search to a shortlist of 19 craters, the team matched one particular crater to the properties of the meteorite.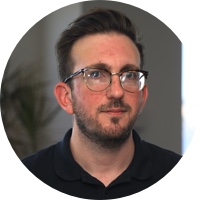 Adam is a journalist who has worked for more than 40 prestigious media brands in the UK and Australia. Since 2005, his varied career has included stints as a reporter, copy editor, feature writer and editor for publications as diverse as Fleet Street newspaper The Sunday Times, fashion bible Jones, media and marketing website Mumbrella as well as lifestyle magazines such as GQ, Woman's Weekly, Men's Health and Loaded. He joined Momentum Media in early 2020 and currently writes for Australian Aviation and World of Aviation.
Receive the latest developments and updates on Australia's space industry direct to your inbox. Subscribe today to Space Connect here.