The Square Kilometre Array Observatory (SKAO) confirmed the recent appointment of two directors to oversee their telescope operations in Australia and South Africa, Dr Sarah Pearce and Dr Lindsay Magnus.
Dr Pearce will oversee the SKA in Australia, with her role to manage the telescope's operations and the staffing of the SKAO. Dr Magnus is expected to do likewise at the SKA site in South Africa.
Dr Pearce who has been appointed director of the SKA's Australian low-frequency telescope currently serves as the acting chief scientist of the CSIRO where she has worked for the last decade. She has also previously held the role of deputy director of the CSIRO astronomy and space program, having begun her career graduating with a first-class honours degree in physics from the University of Oxford, before completing her PhD through the University of Leicester. She was announced Executive of the Year at the Australian Space Awards in 2020.
"This is a unique and exciting opportunity to establish the SKA Observatory team in Australia and help deliver the world's next generation radio telescopes," Dr Pearce said. "I'm honoured to continue my work on the SKA Project in this new role, and I look forward to building a long-lasting partnership between the SKA Observatory and CSIRO."
Dr Magnus, who was appointed as director of the SKA's South African mid-frequency telescope, is the head of operations for the South African Radio Astronomy Observatory (SARAO), having held the position since 2017. He began his career at SARAO in 2011, previously having worked as a lecturer and research physicist with the Hermanus Magnetic Observatory.
"As a South African, I am proud to have been chosen to play a key role in the realisation of this iconic international scientific instrument," Dr Magnus noted. "I am humbled to undertake this task to transform as many lives as possible in South Africa as well as the rest of the world."
Professor Phil Diamon, director-general of the SKAO welcomed the expertise that both academics will provide the SKA.
"I am delighted to welcome Dr Pearce and Dr Magnus as our SKAO telescope directors, both of whom are highly regarded professionals in our field. Their expertise on the SKA Project, deep knowledge of the telescope sites and related infrastructure, and of course their established relationships with our partner organisations in each country means they will be able to hit the ground running as we begin the Construction Phase this year."
It is expected that construction on the SKA will finish in 2028, with the team expected to continue to grow over the next few months.
[Related: PM unveils plan for world's largest radio telescope in WA]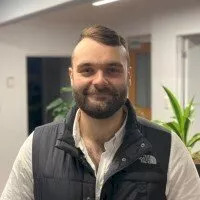 Liam began his career as a speechwriter at New South Wales Parliament before working for world-leading campaigns and research agencies in Sydney and Auckland. Throughout his career, Liam has managed and executed a range of international media and communications campaigns spanning politics, business, industrial relations and infrastructure. He's since shifted his attention to researching and writing extensively on geopolitics and defence, specifically in North Africa, the Middle East and Asia. He holds a Bachelor of Commerce from the University of Sydney and is undertaking a Masters in Strategy and Security from UNSW Canberra.
Receive the latest developments and updates on Australia's space industry direct to your inbox. Subscribe today to Space Connect here.