Lockheed Martin Australia has appointed Mike Scott as program director and Julia Dickinson as chief engineer, military satellite communications, to drive its expansion in the space domain.
Scott will be tasked with providing project management services to the Australian space program, leveraging his experience in the defence, rail and mining sectors, as well as 15 years of service in the Royal Australian Air Force.
The newly appointed program director's previous roles included overseeing in-country modification of the RAAF's Wedgetail aircraft, the Australian Defence Force's High Frequency Communications System, and command and control systems for both the RAAF and the Australian Army.
"Lockheed Martin is the world's largest space business with unrivalled capabilities in Australia and around the globe," Scott said.
"I am excited to join Lockheed Martin Australia as it continues to grow its significant portfolio of space capabilities and services and realise new opportunities."
In her new role as chief engineer, Dickinson will be responsible for the overall Australian engineering performance for Lockheed Martin's JP9102 program solution.
Dickinson joins Lockheed Martin Australia from NBN Co, where she oversaw the space segment of the firm's satellite program.
The chief engineer's past experience also includes a stint as satellite operations director at Worldspace, responsible for operations of the AsiaStar satellite, and 12 years in satellite procurement and operations with Optus Satellite.
"With Lockheed Martin's rich heritage, industrial capability and commitment to working with local industry and research partners, I am thrilled to join a company that is contributing so significantly to the development of Australia's space-oriented industries and technologies," Dickinson commented.
"I look forward to the opportunity to contribute to Australia's future satellite communications capabilities."
David Ball, regional director Australia and New Zealand, Lockheed Martin Space, welcomed the new appointees.  
"The appointments of Mike and Julia represent a key part of the growth strategy for Lockheed Martin Space," he said.
"Both bring a wealth of experience and are highly regarded in the space community. Their appointments demonstrate Lockheed Martin Australia's commitment to building both local and international capability and I am pleased to welcome Mike and Julia to the Lockheed Martin Space team."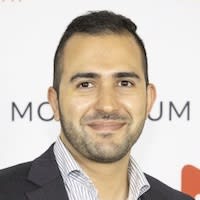 News Editor – Defence and Cyber, Momentum Media
Prior to joining the defence and aerospace team in 2020, Charbel was news editor of The Adviser and Mortgage Business, where he covered developments in the banking and financial services sector for three years. Charbel has a keen interest in geopolitics and international relations, graduating from the University of Notre Dame with a double major in politics and journalism. Charbel has also completed internships with The Australian Department of Communications and the Arts and public relations agency Fifty Acres.
Receive the latest developments and updates on Australia's space industry direct to your inbox. Subscribe today to Space Connect here.