On Monday, the agency released its Earth Observation from Space roadmap, the second in a series of seven roadmaps to support its growth over the next 10 years.
Using satellites to monitor changes on Earth is critical to being prepared for land changes and weather events – such as the 2019-20 bushfires, which was a key accelerator of this project.
In fact, Reece Biddiscombe, director, Earth Observation at the ASA said every time you look at the weather, you're receiving the benefit of 30 satellite data feeds.
According to the head of the ASA, Enrico Palermo, reliance on EO data has "never been more profound".
"Natural disaster response and climate science also look to EO to model and mitigate the impacts of catastrophic weather events like bushfires and drought, which have significant economic and social effects on the community," he said in the roadmap.
Insights from EO are also largely beneficial to the agriculture industry by assisting in managing land changes and crop growth.
The roadmap falls under the ASA's mission to triple the size of the sector to $12 billion, creating an additional 20,000 jobs by 2030.
It is categorised into four phases, including assessing and identifying opportunities Australia has, setting strategic targets to reach by 2030, devising pathways with developed action plans and implementing and monitoring the progress of those plans.
Biddiscombe said the roadmap provides a "strategic direction" for the EO industry in Australia.
Following the black summer two years ago, the ASA identified that satellite monitoring, which could provide more rapid data, was needed more than ever before.
Unlike many developed nations, Australia does not operate its own home-bred built EO satellite, but it relies upon other nations for its services.
While denial of supply from other nations is unlikely, there is still a chance Australia's free data use could be interrupted, which is why the ASA intends to fulfil that gap.
The roadmap includes five focus segments, such as building Australian EO missions and payloads, data quality assurance and integrity monitoring, enhanced data management, international EO partnerships and leadership and access to international data and missions.
It was completed in collaboration with government agencies and universities and will apply to all space stakeholders.
Australian National University was one of the institutions involved, and in August it released a study called "OzFuel" which looks into using infrared technology to fill the gaps of EO the country faces, by providing the first constellation that can address challenges in pre-fire mitigation, according to the university. 
The team conceptualised a bushfire fuel monitoring satellite to fulfil a goal such as launching an Australian-owned satellite.
In recent years, Australia has invested millions in boosting sovereign capability within the space and military sector.
Earlier this year, the Australian Department of Defence announced the Joint Project 9102, which is nationwide collaboration slated to deliver a sovereign military satellite system to the Australian Defence Force – dubbed the MILSATCOM system.
The Australian government has invested up to $3 billion into the project, aiming to reduce reliance on the United States' defence capabilities, including the US military's Wideband Global SATCOM.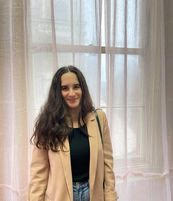 Bella Richards is a journalist who has written for several local newspapers, her university newspaper and a tech magazine, and completed her Bachelor of Communications (Journalism) at the University of Technology Sydney in 2020. She joined Momentum Media in 2021, and has since written breaking news stories across Space Connect, Australian Aviation and World of Aviation.
You can email Bella on: [email protected]
Receive the latest developments and updates on Australia's space industry direct to your inbox. Subscribe today to Space Connect here.