Speaking at the Australian Space Summit on Thursday, Glenn Tindall, chief executive officer of Electro Optic Systems (EOS) Australia, a manufacturer of situational awareness technology, said the workforce must increase to reach the nation's ambitions in space.
"If there's one thing that will stop us getting to our $12 billion space economy, its workforce shortages," he said.
A vital part of Australia's civil space strategy over the next decade is to create 20,000 more jobs by 2030, and this is a large number to achieve. However, many skills in other sectors can be used in space. 
"There's lots of transferable skills from other industries," Tindall said. "This creates the opportunity to have graduates moving from space into other sectors, and this will continue to improve things such as robotics and automation."
Before the Australian Space Agency was born in 2018, the industry was small, and very little funding was being allocated to the sector.
Despite significant growth of start-up companies and investments since, the workforce shortage remains a key roadblock between attracting global customers and filling gaps in the supply chain.
Last year, a report headed by SmartSat Cooperative Research Centre (CRC) and the Australian Space Agency found that out of 319 skills used in Australia's space industry, all but nine experienced some level of shortage.
An additional 86 were identified as skills requiring more attention due to imminent demand and insufficient training providers.
Josh Fitzmaurice, Azure Space Defence and Government lead at Microsoft said at the summit while some may not be directly in the space industry, there are many roles needed that can come from other similar sectors.
"You don't need to be a space person to work in space and have come from a space background."
However, the skill shortage remains only one of the growth barriers, as Australia's space sector has also reigned an ongoing lack of collaboration between industry and academia, which leads to a lack of commercial translation.
Christina Larkin, an associate partner at accountancy firm EY, said at the summit that there is not enough crossover between the two, which is "fundamental" to a multidisciplinary industry.
She said that only around 10 per cent of Australian businesses collaborate with academia, which is "not enough" and believes "there is a lot" the nation should be doing to boost cooperation.
"We will need lots of different skill sets to bring some of the ambition around space to life," she said.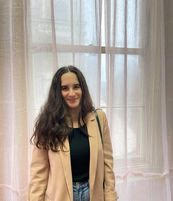 Bella Richards is a journalist who has written for several local newspapers, her university newspaper and a tech magazine, and completed her Bachelor of Communications (Journalism) at the University of Technology Sydney in 2020. She joined Momentum Media in 2021, and has since written breaking news stories across Space Connect, Australian Aviation and World of Aviation.
You can email Bella on: [email protected]
Receive the latest developments and updates on Australia's space industry direct to your inbox. Subscribe today to Space Connect here.