Held on Tuesday, 17 May, a House Intelligence subcommittee gathered together to discuss the Airborne Object Identification and Management Synchronization, the organisation that has been tasked to investigate all sightings of UAPs, and to reduce the stigma of reporting them.
It comes as new evidence suggests an increased number of UAP sighting reports in recent months.
Congressman Andre Carson, who hosted the hearing, said it will bring the organisation "out of the shadows".
One of the witnesses, Ronald Moultrie, who is the Pentagon's top intelligence official and who's office oversees the UAP organisation said the hearing was a matter of "transparency" and "national security".
"The department is fully committed to the principle of openness and accountability to the American people," he told lawmakers.
Last year, US National Intelligence released a preliminary assessment of 144 reports of UAPs dating back to 2004, and which most could not be explained. Since that report was released in June 2021, the task force's data base of sightings has risen to over 400.
"We have seen an increasing number of unauthorised and or unidentified aircraft or objects and military control training areas and other designated airspace sightings and continuing," said the second witness, Scott Bray, who is the Deputy Director of Naval Intelligence.
But he claimed that "there's simply too little data to create a reasonable explanation", of these sightings. 
However, despite the lack of clear evidence, Bray confirmed that the task force "have detected no materials that would suggest as anything non terrestrial in origin."
In his statement, Bray referred to a number of videos captured by Navy pilots through night vision goggles that showed flashing, triangle-shaped objects flying in the sky.
While Bray said the Navy is confident the objects were drones, and the triangle shape was a "result of light passing through the night vision goggles, and then being recorded by an SLR camera", he said that most other sightings had far less evidence than these videos displayed.
"Any given observation may be fleeting, or longer. It may be recorded, or not. It may be observable by one or multiple assets. In short, there's rarely an easy answer," Bray said.
However, Bray claimed that this reporting uptick comes with a higher call for a better approach of detecting and analysing potential UAPs.
"Our main objective was to transition UAP efforts from an anecdotal or narrative-based approach to a rigorous science and technology engineering focused on this data-driven approach requires input from a wide variety of sources," Bray said.
"In the early stages, the task force worked with standardised reporting mechanisms and processes to make it as easy as possible for personnel to report any engagement so that we were getting that wide range of reporting."
Now, as more reports continue to file in, new efforts are being introduced such as including members from the intelligence community from several government agencies and departments, and academic research laboratories with specialties in physics, optics, meteorology and metallurgy.
"In short, we've endeavoured to bring an all hands-on-deck approach to better understand this phenomenon," Bray added.
He said that while he is "impatient" for explanations, most of these sightings are highly classified and difficult to investigate.
"Understanding can take significant time. We've endeavoured to concentrate on this data-driven process to drive fast-paced results."
More to come.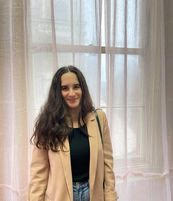 Bella Richards is a journalist who has written for several local newspapers, her university newspaper and a tech magazine, and completed her Bachelor of Communications (Journalism) at the University of Technology Sydney in 2020. She joined Momentum Media in 2021, and has since written breaking news stories across Space Connect, Australian Aviation and World of Aviation.
You can email Bella on: [email protected]
Receive the latest developments and updates on Australia's space industry direct to your inbox. Subscribe today to Space Connect here.