Pie in the sky as Aussies make their mark on the heavens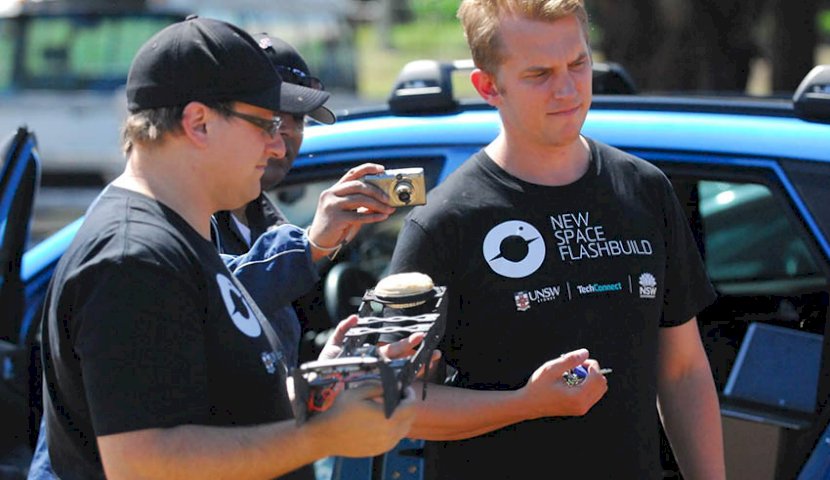 The sky-gods asked and Australia provided, the meat pie that is, as a 'flash build' saw Australia smash the world record for pie altitude in spectacular style in regional NSW. 
The Garlo's meat pie was taken more than 30 kilometres above the earth in a balloon that was the culmination of a four-day sprint of workshops, linking experienced teams of engineers with students and businesses to rapidly prototype and deploy solutions to a range of mission-related challenges.
The 2018 NewSpace FlashBuild was led by UNSW's TechConnect and supported by launch company SpaceOps and space tech co-ordinator Delta-V, with the backing of the NSW government's Boosting Business Innovation Program.
"Australia has a bright future in space technology, but there's nowhere near enough awareness of this in the community," said UNSW TechConnect Flashbuild organiser Alex Herlihy.
"We wanted to prove that when Australians set their minds on space anything is possible. Getting a pie in the sky is no longer pie in the sky," he said.
Jackson Garlick, sales manager at Garlo's Pies said the company was happy to help.
"TechConnect has been working with our team to come up with new and innovative ways of improving our business, but when they said they wanted to send one of our pies into space I thought it must be a gee up," said Garlick.
"This project was executed using 100 per cent Australian space tech – and 100 per cent Australia meat and pastry."
Also attached to the balloons was special 3D equipment designed by children from Ronald McDonald House earlier in the week.
TechConnect is a unique incubator program for SME businesses based in NSW. The organisation part of UNSW exists to help businesses engage with academics to forge collaborative and productive research relationships.
The program provides subsidised R&D expertise, access to world-class facilities, free innovative training programs and an extensive global network to support business expansion. 
Over the past 12 months, TechConnect has delivered over 20 training programs, forums and networking events for hundreds of SMEs and innovators. It has provided subsidised research and support to over 30 businesses and generated more than five new jobs. A few of the projects included:
Launching the world's first crypto rewards program;
Helping a surveying company gain access to a new market in agriculture;
Supporting the development of lycopene skincare;
Accelerating the prototyping and development of virtual sales agents; and
Improving satellite communications – live in orbit. 
"We wanted to prove that when Australians set their minds on space anything is possible. Getting a pie in the sky is no longer pie in the sky," Herlihy explained. 
Receive the latest developments and updates on Australia's space industry direct to your inbox. Subscribe today to Space Connect here.