The cargo ship, owned by Northrop Grumman, was released from the station's robotic arm at 12.32pm ET, carrying over 8,000 pounds of disposable cargo, such as waste and rubbish.
Readying for the second phase of the NG-15 mission, the ground controllers of the operation unbolted the spacecraft from its docking point and used the robotic arm to release it.
The Cygnus is an American cargo expendable spacecraft, originally developed by Orbital Sciences Corporation and now owned by Northrop Grumman.
"Our Cygnus cargo resupply missions to the International Space Station help enable humans to live and work in space," said Frank DeMauro, vice president and general manager, tactical space systems, Northrop Grumman.
Megan Macarthur, a NASA astronaut, was in charge of monitoring the mission.
These missions are part of NASA's commercial resupply program, designed to resupply the space station with essentials for astronauts to continue carrying out scientific research.
The Cygnus will remain in orbit for approximately three days to carry out the second phase of the mission – deploying five miniature satellites called CubeStats, including one created by graduate students.
The satellites will be released through separate deployers, Slingshot and Nanoracks. Included is the Ionosphere Thermosphere Scanning Photometer for Ion-Neutral Studies (IT-SPINS), allowing researchers to explore the Earth's ionosphere, according to NASA Blogs.
The deployment will include the second CubeStat, Dhabisat, created by Khalifa University students in Abu Dubai, United Arab Emirates. This was developed in collaboration with Northrop Grumman, UAE-based satellite operator Al Yah Satellite Communications company, and Khalifa University.
The NG-15 Cygnus vessel was originally launched on 20 February, aboard the company's Antares 230+ rocket, carrying over 8,000 pounds of "scientific research, supplies and equipment to the astronauts living on the station", according to the statement released yesterday.
The supply ship is named after a female NASA mathematician, SS Katherine Johnson, whose work was critical in sending the first Americans to space.
On Thursday, the Cygnus spacecraft will ready for its safe, destructive reentry into the Earth's atmosphere over the Pacific Ocean, as the cargo packed by astronauts will burn in descension.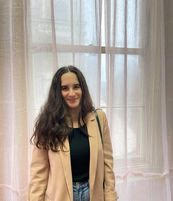 Bella Richards is a journalist who has written for several local newspapers, her university newspaper and a tech magazine, and completed her Bachelor of Communications (Journalism) at the University of Technology Sydney in 2020. She joined Momentum Media in 2021, and has since written breaking news stories across Space Connect, Australian Aviation and World of Aviation.
You can email Bella on: [email protected]
Receive the latest developments and updates on Australia's space industry direct to your inbox. Subscribe today to Space Connect here.