The world's richest man and Blue Origin founder Jeff Bezos is about to undertake his very first spaceflight on the Blue Origin New Shepard spacecraft.
Pending no delays, lift-off is scheduled for 8:00am CDT / 1:00pm UTC / 11:00pm AEST on 20 July 2021.
Following 15 consecutive successful non-crewed test flights on Blue Origin's suborbital spacecraft New Shepard, the first of which took place in April 2015, today's spaceflight will mark the very first test with people onboard.
Bezos announced in June that he would be boarding the inaugural crewed test flight, along with his brother, Mark.
"You see the Earth from space, it changes you," the 57-year-old ex-Amazon chief executive said in a video, announcing his decision to take part in the first New Shepard crewed flight.
"It changes your relationship with this planet, with humanity. It's one Earth. I want to go on this flight because it's the thing I've wanted to do all my life. It's an adventure. It's a big deal for me."
Following a life-long fascination with space, then-36-year-old Bezos founded the space company in September 2000 in its current home state of Kent, Washington, just six years after he founded the e-commerce platform Amazon. By 2003, Blue Origin began to purchase land in Texas, where its Launch Site One suborbital launch and test facility now stands.
Since its establishment, Blue Origin's primary goal has been to make spaceflight more accessible through investing in autonomous, reusable rockets capable of flying to suborbital space.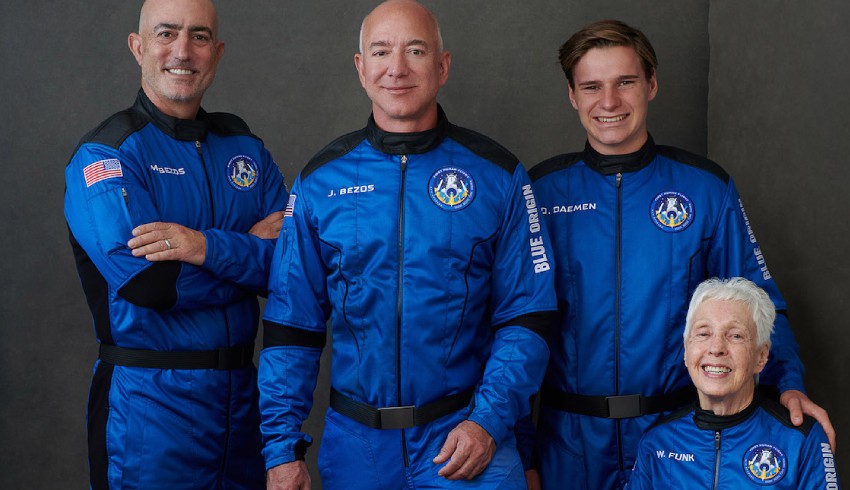 Meet today's flight crew
The Bezos brothers will not be alone on their brief jaunt to the Kármán line, and will be joined by Bezos' "honoured guest", 82-year-old pioneering veteran female pilot and one of the surviving members of the Mercury 13 Wally Funk, as well as 18-year-old student pilot Oliver Daemen.
According to Blue origin, by the end of its inaugural crewed flight, Daeman and Funk will represent the world's youngest and oldest astronauts, respectively.
Since she was in her 20s, Funk has dreamed of flying to space. She was one of the members of Mercury 13, a privately-funded program that subjected 13 women to the same physical and mental tests as male astronauts, in an attempt to prove that women could fly in space.
Despite the program being cancelled, Funk never let go of her dream to fly to space, and last month received a call from Bezos himself inviting her onboard the New Shepard.
Meanwhile, 18-year-old high school graduate Daemen was lucky to secure his spot on the flight, when one big spender decided not to show.
The anonymous winner of Blue Origin's highly-publicised charity auction, in which the public was able to bid for the final seat next to Bezos himself on the 20 July spaceflight, said they suddenly were unable to attend due to 'scheduling conflicts'.
The unidentified person won the charity auction last month with a bid of $29.7 million, following a five-week auction and final live-streamed event.
Over the five-week campaign, over 7,600 people registered to bid from over 150 countries.
According to Blue Origin, the charity auction winner "has chosen to fly on a future New Shepard mission due to scheduling conflicts", and will thus not be joining billionaire founder Bezos, his brother and Funk on the inaugural crewed flight to space.
The near-$30 million winning bid was donated to Blue Origin's foundation, Club for the Future, to assist in its mission to inspire future generations to pursue careers in STEM and invest in the future of life in space.
Instead, self-confessed space fan Daemen was announced to take the final seat onboard the rocket.
Daemen will technically become the first paying customer aboard a Blue Origin spaceflight, after his father Joes Daemen, CEO of Netherlands-based investment firm Somerset Capital Partners, purchased the ticket for him for an undisclosed price.
The New Shepard
The New Shepard spacecraft is a rocket-and-capsule combo that flies autonomously for brief jaunts into suborbital space, around 100 kilometres above Earth.
The spacecraft flies high enough to see the curvature of the Earth, and experience a few minutes of low-gravity weightlessness, according to Blue Origin.
From lift-off to landing, the flight is said to take just 11 minutes from beginning to end.
At the end of the flight, the pressurised crew capsule returns back down to Earth via parachutes. The flight will launch from Blue Origin's reusable booster in West Texas, with a landing point also in West Texas.
According to the company, the crew capsule boasts six observation windows that are each nearly three times as large as Boeing 747 windows, and the largest ever to be used in space.
"The view will be spectacular," Blue Origin's director of astronaut sales, Ariane Cornell, said.
While currently only 569 people have ever been into space, she said, "We're about to change that dramatically."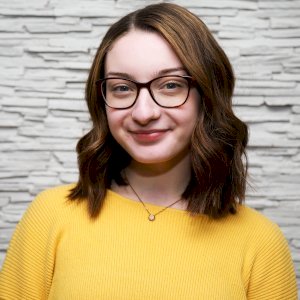 Writer – Defence and Aerospace, Momentum Media
Hannah joined Momentum as a journalist in 2019, and has since written breaking news stories across a diverse range of corporate industries, including finance, real estate, investments and aviation. She has a keen interest in the global aviation sector, with a particualy focus on improving overall individual wellbeing across the aerospace industry.
Hannah graduated from Macquarie University in Sydney Australia with a Bachelor of Media (Journalism) and is currently pursuing postgraduate studies.
Send Hannah an email at [email protected] or connect via Twitter or LinkedIn.
Receive the latest developments and updates on Australia's space industry direct to your inbox. Subscribe today to Space Connect here.