Christopher Tylor, Co-Founder of Sunshine Coast based Fireball International turned University of Southern Queensland (USQ) research into detecting exploding stars on its head - creating a platform that identifies and maps wildfires with unmatched speed and accuracy - when they are still small and easy to extinguish.
Mr Tylor said the Fireball system, which received a $500,000 Acceleration Commercialisation grant from the Australian Government, fuses satellite images with ground-based sensor detections for near immediate discovery, allowing firefighters to gain control quickly.
In 2019 Mr Tylor, a former CEO of several tech based businesses, and his astrophysics PHD supervisor, USQ Astrophysicist Professor Dr Brad Carter, used supernova research by award-winning USQ Adjunct Professor Carl Pennypacker to develop a fire detection system that has since been adopted throughout California. The company has contracts with the State of California and electrical utility companies.
"Our satellite detected the Kincade Fire in California 66 seconds after a falling power line ignited the explosive fire. Our system alerted authorities and fire growth was so clear that a town evacuation was ordered within 20 minutes of ignition," Mr Tylor said.
Mr Tylor said independent research from the Australian National University found  Fireball's early detection system could save Australia $8.6 billion over the next 30 years in disaster response, and a recent authenticated test in Noosa Heads put its cost at just 86 cents per resident annually and across Queensland at $5.90.
"We want to roll the system out globally and have been excited to realise it's applicable to sectors far broader than emergency services – including operators within the electrical utility, forestry, telecommunications, tourism and insurance industries," he added.
Mr Tylor said that with a pool of highly skilled commercial and scientific talent Queensland was a great place for space start-ups and supporting services.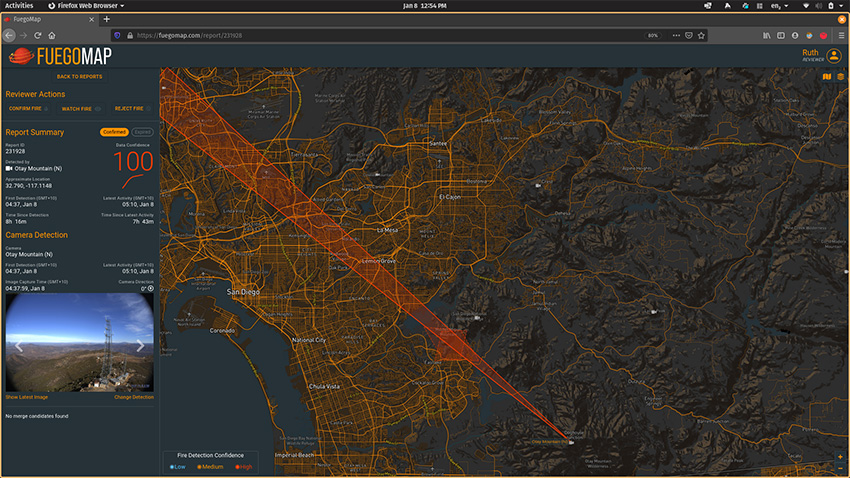 Image depicts smoke detected by Fireball's artificial intelligence - from a ground camera, confirmed by satellite pixels identifying heat from the same fire".
Founder of earth observation and analytics company Ozius Pty Ltd Alisa Starkey also started her company as a result of identifying a disconnect between existing research and related commercialised product.
"Ozius was born in 2014 to create enviro intelligence solutions to empower business to manage and respond to environmental risk," she says.
Privately owned and funded the company's remotely operated enviro intelligence solutions include:
land performance monitoring for green assets and progressive rehabilitation

anomaly detection for high value mining assets to support the activation of field maintenance teams; and 

carbon footprint assessments for site acquisition and performance assessment.
Ms Starkey, an environmental and remote sensing scientist, said all three systems had been independently validated over the last five years and were dependable with a 90 percent accuracy - an unbeatable result for remote sensing technology.
Currently servicing the Australian energy and defence geo intelligence industries, Ms Starkey hopes to promote the company's intellectual property globally to secure international clients.
"The international carbon market alone grew 20 per cent to US$272 billion in 2020.
"Queensland is a super place for space technology for many reasons. Firstly, we're a world-leader in earth observation analytics and secondly the state government has invested consistently in the industry over the last 25 years – and now is the perfect time to capitalise on this," she said.
Ms Starkey added that space technology was not just an emerging phenomenon – it is ready to use and accessible right now to integrate into business.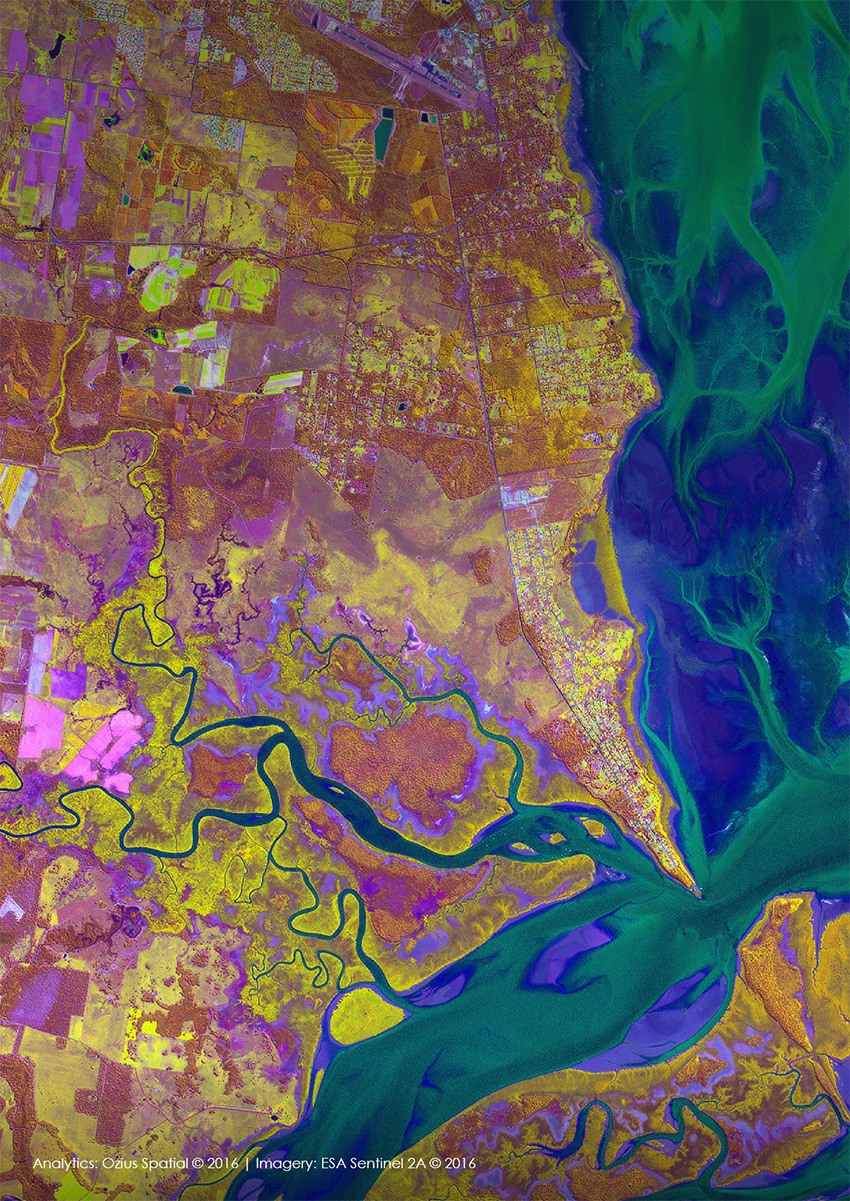 Ozius uses the data collected from a dozen different earth observation satellites, including the European Space Agency's Sentinel 2 satellites. 
Brisbane based artificial intelligence (AI) and robotics company Raytracer received a $200,000 grant in 2020 from the Australian Space Agency's (ASA's) International Space Investment initiative to develop underwater virtual reality training simulations for astronauts.
The technology, named TitanLake, will have spill over benefits right here on earth, including police search and rescue operations and commercial diver training.
Raytracer, a subsidiary of Maxart Technology Group which specialises in training and simulation in the civil space, was founded in 2019 by inventors Tim Lucas, Peter Clowes, Dale Thompson and Jose Coulson.
Tim Lucas, Raytracer CTO and Co-Founder said the privately funded company was working on Robotics, AI, human to machine interface and simulation technologies and had this year received  a Mega Epic grant from Epic Games and a Moon to Mars Feasibility grant to help bring its technology to life and grow Australian sovereign capability in the space sector.
"TitanLake is a safe and practical Virtual Reality (VR) system where the user wears a VR headset while immersed in a swimming pool to achieve neutral buoyancy.
Astronauts in training will put on the headset and be transformed to a space environment and will be able to work together globally in a live simulation training environment. The system will offer the most realistic space walk here on earth and assist in the global effort to democratise space," Mr Lucas said.
The company is also developing Carbon - a robotics command and control system for space exploration and remote operation of robotics. This project received a $200,000 Demonstrator Feasibility grant from the ASA's Moon to Mars Initiative in 2020 - helping the company to grow Australia sovereign capability in the space sector
"It combines complex digital twins with control algorithms and multi-domain data analytics to inform remote users of both the state of the robot and its environment," Mr Lucas said. 
In the coming years, Raytracer's goal is to build sovereign hardware and software development capabilities in both space and defence to service Australia, its allies and partners within these sectors.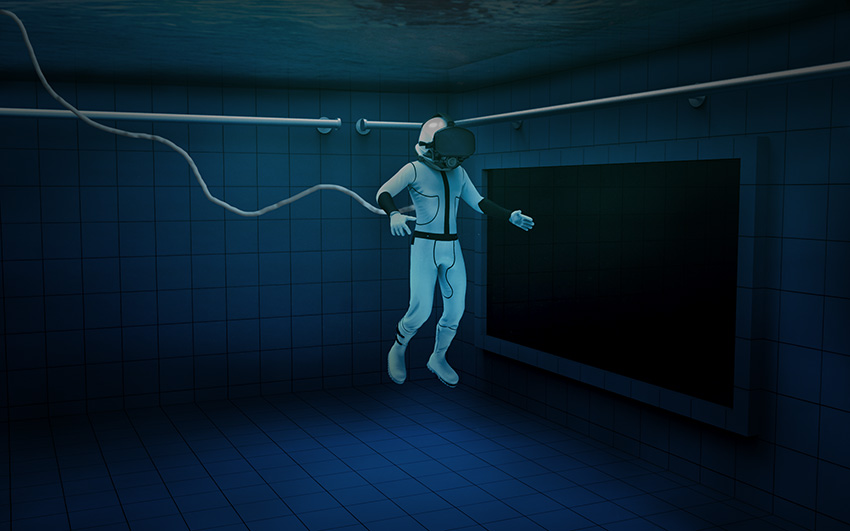 image depicts Raytracer "Aquanaut" experiencing a neutrally buoyant spacewalk simulation.
Each of these three space companies shares the Queensland Government's vision that by 2025 the state's space industry will be recognised as a leading centre in Australasia for launch activities, ground systems, earth observation, niche manufacturing, robotics and automation for space.
The $8 million Queensland Space Industry Strategy sets out a clear pathway to achieve this vision - find out how Queensland means business and view Queensland's Space Industry Strategy here.
Receive the latest developments and updates on Australia's space industry direct to your inbox. Subscribe today to Space Connect here.