The Brisbane-based company has fired a rocket from its private test and launch site near Goondiwindi in southern Queensland, aimed at providing the company with key test and evaluation (T&E) data to support its development of sovereign space-launch capability. 
According to the company, the Sighter 150 rocket flew to an altitude of almost 30,000 feet in less than 30 seconds, carrying a software payload for Australian cyber security company BITSCore.
This was the third in a series of T&E rocket launches testing Black Sky's in-house avionics and telemetry systems.
"This helps prove out and refine our ability to track the rockets through flight and allows us to check performance of our hardware and software systems," Black Sky CEO Blake Nikolic said.
The company also tested a missile motor as part of its push to support the Commonwealth government's sovereign weapons program.
The static fire test reportedly exhausted 24 kilograms of rocket fuel in about nine seconds. 
"This allows us to prove out the propellant and the energetics – what makes the missiles fly through the air," Nikolic added.
"We are also looking at the performance characteristics of the unique composite manufacturing hardware we use for the rocket motor hardware." 
Earlier this year, Black Sky Aerospace joined the Australian Missile Corporation (AMC) – a cooperative led by munitions company NIOA, which is bidding to spearheaded Australia's sovereign Guided Weapons and Explosive Ordnance Enterprise.  
The GWEO Enterprise, valued at up to $100 billion over the next 20 years, aims to produce a suite of advanced missiles for the ADF and allied nations.
A number of other firms have joined the AMC consortium, including Quickstep, Moog Australia and Thomas Global Systems.
AMC will be competing against the Sovereign Missile Alliance – a joint bid between Nova Group and EOS Systems – and Lockheed Martin Australia's collaboration with Thales Australia.
Defence is currently in the process of defining key requirements for the enterprise.
This article is courtesy of Defence Connect.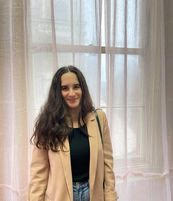 Bella Richards is a journalist who has written for several local newspapers, her university newspaper and a tech magazine, and completed her Bachelor of Communications (Journalism) at the University of Technology Sydney in 2020. She joined Momentum Media in 2021, and has since written breaking news stories across Space Connect, Australian Aviation and World of Aviation.
You can email Bella on: [email protected]
Receive the latest developments and updates on Australia's space industry direct to your inbox. Subscribe today to Space Connect here.