Astronomer Bill Gray, who first identified the object, said NASA's Jet Propulsion Laboratory informed him of the news over the weekend.  
It's now believed the junk is actually the Chinese Chang'e 5-T1, a third stage used to launch its lunar orbiter in 2014.
Gray originally thought it was from the first interplanetary mission SpaceX launched in 2015, when the second stage of a Falcon 9 did not have enough fuel to return to Earth.
It carried the Deep Space Climate Observatory (DSCOVR) satellite into orbit, a joint collaboration between NASA and the US National Oceanic Atmospheric Administration. 
SpaceX is typically known for its reusable rockets and disposal of upper stages after use, but this technology was not inaugurated at the time of the launch.   
In his mea culpa, Gray said Jon Giorgini of NASA's Jet Propulsion Laboratory pointed out that "JPL's Horizons system showed that the DSCOVR spacecraft's trajectory did not go particularly close to the moon. It would be a little strange if the second stage went right past the moon, while DSCOVR was in another part of the sky. There's always some separation, but this was suspiciously large."
Gray has received much support from the space community, with astronomer Jonathan McDowell tweeting that the bodged discovery was an honest mistake that "just emphasises the problem with lack of proper tracking of these deep space objects".  
Gray runs Project Pluto, a company that supplies astronomical software for commercial and independent customers.
He originally announced that the roughly four-tonne object will hit the moon at approximately 2.58 kilometres per second, give or take. 
It will likely impact the moon's far side at 12:25:58 Universal Time on 4 March and the incident will still be the first unintentional case of an object hitting the lunar surface.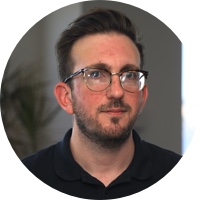 Adam is a journalist who has worked for more than 40 prestigious media brands in the UK and Australia. Since 2005, his varied career has included stints as a reporter, copy editor, feature writer and editor for publications as diverse as Fleet Street newspaper The Sunday Times, fashion bible Jones, media and marketing website Mumbrella as well as lifestyle magazines such as GQ, Woman's Weekly, Men's Health and Loaded. He joined Momentum Media in early 2020 and currently writes for Australian Aviation and World of Aviation.
Receive the latest developments and updates on Australia's space industry direct to your inbox. Subscribe today to Space Connect here.