Lockheed Martin and General Motors (GM) have partnered to develop platforms for NASA's Artemis mission, which aims to support human exploration on the moon.
The companies have agreed to jointly design and build a Lunar Terrain Vehicle (LTV), which can be used to transport astronauts over vast distances on the moon's surface. 
The autonomous, self-driving systems would be designed to support human landings by providing commercial payload services, and enhancing the range and utility of scientific payloads and experiments.
Lockheed Martin, which will lead the new initiative, is expected to leverage its experience supporting NASA's deep-space programs, which has included the delivery of the Orion exploration class spaceship.
"This alliance brings together powerhouse innovation from both companies to make a transformative class of vehicles," Rick Ambrose, executive vice president, Lockheed Martin Space, said.
"Surface mobility is critical to enable and sustain long-term exploration of the lunar surface.
"These next-generation rovers will dramatically extend the range of astronauts as they perform high-priority science investigation on the moon that will ultimately impact humanity's understanding of our place in the solar system."
GM is expected to leverage its battery-electric technologies, propulsion systems, and autonomous technology to enhance the lunar vehicles.
"General Motors made history by applying advanced technologies and engineering to support the Lunar Rover Vehicle that the Apollo 15 astronauts drove on the moon," Alan Wexler, senior vice president of innovation and growth at General Motors, said.
"Working together with Lockheed Martin and their deep-space exploration expertise, we plan to support American astronauts on the moon once again."
This would mark GM's latest contribution to a NASA program, with the firm previously  testing, manufacturing, and integrating the inertial guidance and navigation systems for the entire Apollo moon program, including Apollo 11 and the first human landing in 1969.
The US company has also helped develop the electric Apollo Lunar Roving Vehicle (LRV), including the chassis and wheels for the LRV used on Apollo's 15-17 missions.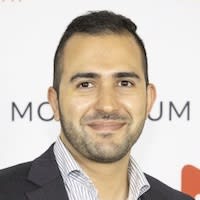 News Editor – Defence and Cyber, Momentum Media
Prior to joining the defence and aerospace team in 2020, Charbel was news editor of The Adviser and Mortgage Business, where he covered developments in the banking and financial services sector for three years. Charbel has a keen interest in geopolitics and international relations, graduating from the University of Notre Dame with a double major in politics and journalism. Charbel has also completed internships with The Australian Department of Communications and the Arts and public relations agency Fifty Acres.
Receive the latest developments and updates on Australia's space industry direct to your inbox. Subscribe today to Space Connect here.