The UK Space Agency has announced it will install its 'ColKa' (Columbus Ka-band Terminal) technology on the International Space Agency (ISS).
The technology, funded by the British government, is designed to provide scientists with the ability to more speedily access the results of their space-based experiments.
Specifically, the ColKa technology allows astronauts and researchers to access data from a dedicated link back to Earth at home broadband speeds, enabling receipt of data in just one or two days.
At present, results are returned to Earth on a hard drive in a process that could take months, with data sometimes being lost in transit.
NASA astronauts Victor Glover and Michael Hopkins will leave the space station for six hours to mount the UK-built large suitcase-sized device to the European Space Agency's Columbus module on the ISS.
Once installed, data will be transmitted to a ground station at Harwell Campus, Oxfordshire, near ESA's European Centre for Space Applications and Telecommunications, before being transferred to the Columbus Control Centre and user centres across Europe.
"This mission to install pioneering UK-built technology in space exemplifies how government backing is helping our most innovative companies push the boundaries of what we can achieve in space as well as back home on Earth," Science Minister Amanda Solloway said.
"Strengthening the speed at which data can be transmitted from space will bring enormous benefits to scientists and researchers across Europe, helping them progress vital research faster, while opening up numerous commercial opportunities for UK firms as we build back better."
David Kenyon, managing director at MDA UK based in Harwell, which designed and built ColKa using the RAL Space clean rooms on the Harwell Campus, added, "We are extremely excited that ColKa is being brought into service.
"This system is our first flight system developed through MDA UK, and we now have equipment for another seven flight missions, including four lunar systems, under development in Harwell.
"ColKa will bring tremendous benefit to all our ESA astronauts, scientists and projects."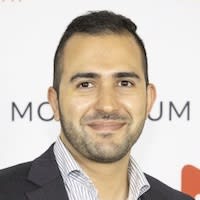 News Editor – Defence and Cyber, Momentum Media
Prior to joining the defence and aerospace team in 2020, Charbel was news editor of The Adviser and Mortgage Business, where he covered developments in the banking and financial services sector for three years. Charbel has a keen interest in geopolitics and international relations, graduating from the University of Notre Dame with a double major in politics and journalism. Charbel has also completed internships with The Australian Department of Communications and the Arts and public relations agency Fifty Acres.
Receive the latest developments and updates on Australia's space industry direct to your inbox. Subscribe today to Space Connect here.