The S-Band SAR images were taken using the satellite's strip map mode at six-metre resolution, and are 20 kilometres wide by 87 kilometres long. NovaSAR-1 is a technology demonstration mission that has been launched into a 580-kilometre orbit, with the Commonwealth Scientific and Industrial Research Organisation (CSIRO) signing on as a mission partner.
CSIRO's 10 per cent share of 'tasking and acquisition' time on the NovaSAR satellite, worth $10.45 million over seven years, allows CSIRO to direct the satellite's activity over Australia, download and process data, while developing domestic expertise in the operational management and capabilities of space-based SAR technology. 
In particular, CSIRO's use of NovaSAR provides a number of practical applications, including: 
Rapid natural disaster identification, monitoring and assessment for bushfires, cyclones, floods, earthquakes, pollution and oil spills;
Improved infrastructure and agriculture mapping in northern Australia;
Crop monitoring and assessment, including plant biomass and soil moisture;
Detecting illegal deforestation;
Flood risk assessment; and 
Monitoring shipping routes to detect illegal fishing, piracy and similar activities. 
The image of Sydney was taken at night, and shows several notable locations like the Harbour Bridge, the Opera House, the Royal Botanic Garden, and others. Sydney was one of the two chosen locations to be photographed, with Cairo, Egypt the other.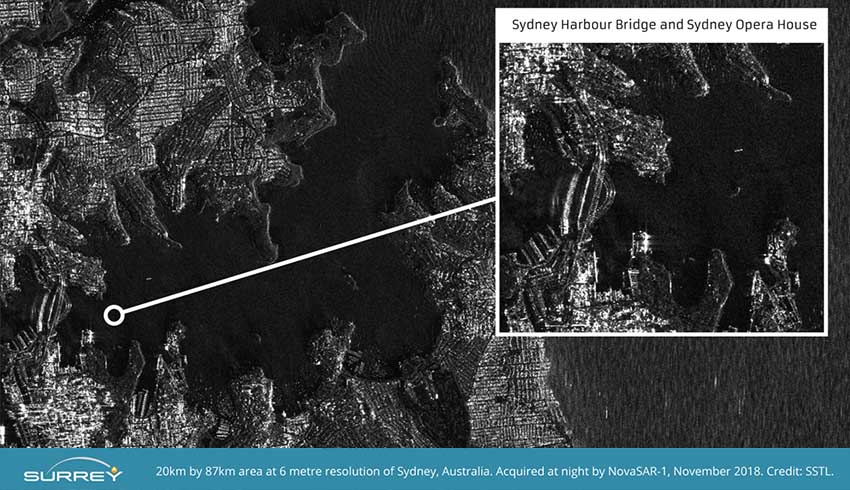 Director of Earth observation at SSTL, Andrew Cawthorne, said his team is thrilled at the outcome of the images.
"We have worked closely with the SAR experts at Airbus in Portsmouth to develop NovaSAR-1 and the whole team is delighted with these first results - the outcome of space engineering expertise, ingenuity and collaboration," Cawthorne said.
The growing commercialisation of enhanced imagery data, particularly for use in navigation, Earth observation, scientific programs, technology support and situational awareness capacities provided by SAR capabilities when compared with traditional sensor technologies, provides avenues for Australia to build on current commitments spearheaded by the CSIRO's investment in the NovaSAR satellite. 
"Over the coming weeks our spacecraft operators will continue to test the capabilities of the spacecraft as we task the satellite to image locations around the world, working towards the start of service delivery to our mission partners in the near future," Cawthorne said.
A close up from the original image of Sydney shows boats moored in Church Point, which SSTL said demonstrates the "usefulness of SAR for detecting vessels of many different sizes and types, particularly at night or through cloud cover".
NovaSAR will provide the CSIRO and wider Australian research community with access to an advanced form of radar technology, including S-band SAR providing high-resolution images of Earth from space. 
Receive the latest developments and updates on Australia's space industry direct to your inbox. Subscribe today to Space Connect here.