NASA's Marshall Centre to lead Artemis program's human lunar lander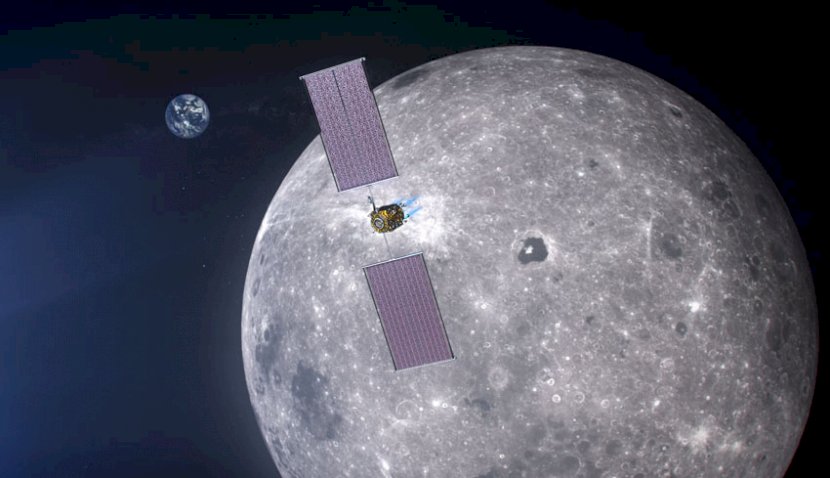 NASA administrator Jim Bridenstine was joined on Friday by US representatives Mo Brooks and Robert Aderholt of Alabama and Scott DesJarlais of Tennessee at the agency's Marshall Space Flight Centre to announce its new lead role on the agency's Human Landing System Program.
Informed by years of expertise in propulsion systems integration and technology development, engineers at Marshall will work with American companies to rapidly develop, integrate and demonstrate a human lunar landing system that can launch to the Gateway, pick up astronauts and ferry them between the Gateway and the surface of the moon.
Bridenstine discussed the announcement in front of the 149-foot-tall Space Launch System (SLS) rocket liquid hydrogen tank structural test article currently being tested.
"We greatly appreciate the support shown here today by our representatives in Congress for NASA's Artemis program and America's return to the moon, where we will prepare for our greatest feat for humankind – putting astronauts on Mars. We focus on a 'One NASA' integrated approach that uses the technical capabilities of many centres. Marshall has the right combination of expertise and experience to accomplish this critical piece of the mission," he said. 
NASA's Johnson Space Center in Houston, which manages major NASA human spaceflight programs including the Gateway, Orion, Commercial Crew and International Space Station, will oversee all aspects related to preparing the landers and astronauts to work together. Johnson will also manage all Artemis missions, beginning with Artemis 1, the first integrated test of NASA's deep space exploration systems.
The trip to Marshall came the day after Bridenstine visited NASA's Michoud Assembly Facility in New Orleans, where he viewed progress on the SLS core stage that will power NASA's Artemis 1 lunar mission. With the start of testing in June on the liquid hydrogen tank article, and the recent arrival of the liquid oxygen tank at Marshall, which manages the SLS Program, NASA is more than halfway through SLS structural testing.
Congressman Brooks said, "Marshall Space Flight Center is the birthplace of America's space program. It was Marshall scientists and engineers who designed, built, tested and helped launch the giant Saturn V rocket that carried astronauts on the Apollo missions to the moon.
"Marshall has unique capabilities and expertise not found at other NASA centres. I'm pleased NASA has chosen Marshall to spearhead a key component of America's return to the moon and usher in the Artemis era. Thanks to administrator Bridenstine for travelling here to share the great news in person."
These comments were reinforced by Congressman DesJarlais, who said, "The Tennessee Valley, including Huntsville and stretching across middle Tennessee, is a dynamic, exciting region, home to thousands of men and women – working at both public and private institutions – who are leading the United States into the next age of space exploration.
"As a member of the House armed services committee, I am thrilled to visit one of our country's premier facilities, near Arnold Air Force Base and others, developing the latest spaceflight technology. NASA's Artemis program will help our country to create another American Century. We can be proud of our achievements, especially here at the Marshall Space Flight Centre."
NASA recently issued a draft solicitation and requested comments from American companies interested in providing an integrated human landing system – a precursor to the final solicitation targeted for release in the coming months. The agency's human lunar exploration plans are based on a two-phase approach: the first is focused on speed – landing on the moon within five years – while the second will establish a sustained human presence on and around the moon by 2028. The agency will use what it learns on the moon to prepare for the next giant leap – sending astronauts to Mars.
Receive the latest developments and updates on Australia's space industry direct to your inbox. Subscribe today to Space Connect here.
Website Notifications