SmartSat CRC has formally established Aurora Space Startup Cluster — a 65-member organisation representing every part of the space supply chain.
Aurora has been launched to develop a framework that encourages start-ups to collaborate with industry counterparts and other stakeholders to win business, accelerate R&D, and develop new world-leading capabilities.
Aurora's inaugural board is comprised of directors Andrew Barton (Southern Launch), Troy McCann (Moonshot), chair Dr Tim Parsons (Delta-V Newspace Alliance), Conrad Pires (Picosat Systems), and Dr Anastasia Volkova (FluroSat).
Professor Andy Koronios and Peter Nikoloff will represent SmartSat CRC on the board.
A brand identity for Aurora has also been established, reflecting the organisation's goal to help its members grow, soaring upwards to break through the boundary between Earth and space.
"Start-ups are, by definition, companies looking to grow fast by leveraging new technologies and disruptive business models," Dr Parsons, who chaired the Aurora Steering Group in the past year through its formation phase, said.
"If we're to have any chance of meeting the nation's ambitious growth targets for space, we need to help our space startups grow faster, in technical readiness level, in capability to execute, and commercial acumen."
SmartSat CEO Andy Koronios added, "SmartSat is committed to supporting the Australian space innovation ecosystem. We invite space start-ups to join Aurora and help us build the space industry."
[Related: Leonardo joins Lot Fourteen space precinct, partnership with SmartSat CRC]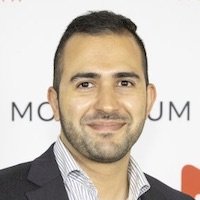 News Editor – Defence and Cyber, Momentum Media
Prior to joining the defence and aerospace team in 2020, Charbel was news editor of The Adviser and Mortgage Business, where he covered developments in the banking and financial services sector for three years. Charbel has a keen interest in geopolitics and international relations, graduating from the University of Notre Dame with a double major in politics and journalism. Charbel has also completed internships with The Australian Department of Communications and the Arts and public relations agency Fifty Acres.
Receive the latest developments and updates on Australia's space industry direct to your inbox. Subscribe today to Space Connect here.