Electro Optic Systems (EOS) subsidiary SpaceLink and Australian launch services provider and spacecraft manufacturer Gilmour Space have signed a memorandum of understanding (MOU).
The firms have agreed to jointly explore opportunities to incorporate the SpaceLink relay network for communications on Gilmour's small satellite platform, and integrate Gilmour-built satellites into the SpaceLink network.
The MOU is also expected to involve:
work to support the compatibility of SpaceLink communications terminals with the Gilmour space platform;
the sharing technical and business information to support Gilmour's implementation of SpaceLink's communications services; and
the extension of the communications capabilities to Gilmour's customers.
Ultimately, the MOU aims to facilitate the negotiation of a definitive contract, and explore further contracts for launch services later this year.
"We see the signing of this MOU as a strong endorsement of the business plans of both SpaceLink and Gilmour Space," Ben Greene, chairman and CEO of EOS, said.
"SpaceLink looks forward to working with Gilmour Space on a definitive contract later this year."
Adam Gilmour, CEO of Gilmour Space, added, "We are very excited to be working closely with another leading space and defence company to enhance our small satellite and launch capabilities.
"The SpaceLink relay service has the potential to bring real time, high-capacity communications capability to our satellite customers."
About the offerings
The SpaceLink relay service is designed to provide secure, continuous, high-capacity communications between low-Earth orbit (LEO) spacecraft and the ground, providing capacity for tasking, data download, and a variety of other communications requirements.
According to SpaceLink, the service also helps "close the business case" for operators of small satellites, Earth observation companies, commercial space stations, and satellite servicers and tugs.
Gilmour Space is developing new launch vehicles powered by lower-cost and safer hybrid propulsion technologies and is introducing a specialised 'G-class' satellite bus for space systems.
The firm's Eris orbital rocket is designed to help smallsat operators find affordable and reliable launches into LEO from 2022.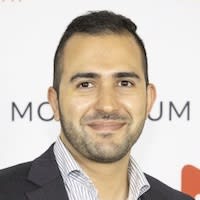 News Editor – Defence and Cyber, Momentum Media
Prior to joining the defence and aerospace team in 2020, Charbel was news editor of The Adviser and Mortgage Business, where he covered developments in the banking and financial services sector for three years. Charbel has a keen interest in geopolitics and international relations, graduating from the University of Notre Dame with a double major in politics and journalism. Charbel has also completed internships with The Australian Department of Communications and the Arts and public relations agency Fifty Acres.
Receive the latest developments and updates on Australia's space industry direct to your inbox. Subscribe today to Space Connect here.