EOS Space Systems confirmed that they had partnered with Palantir Australia to take part in the US-based Sprint Advanced Concept Training (SACT) earlier in the month. The goal of the training program was to undertake the delivery of an Australian data accumulation and presentation interface. The opportunity allowed Palantir to demonstrate the Palantir Foundry software alongside EOS' space awareness sensors.
The Palantir Foundry software supports the accumulation of data from multiple sources into a single usable interface, and has been utilised by the Australian government and businesses for 12 years. Just last year, Palantir was further tasked with the provision of their Space Command and Control (Space C2) system to analyse data and provide insight on object manoeuvreing for the United States Space Force.
Meanwhile, EOS Space Systems specialises in the design and development of sensors for space domain awareness, with 35 years of expertise in detecting and classifying space objects, manoeuvring and missile identification systems.
Professor Craig Smith, chief executive officer of EOS Space Systems, welcomed the opportunity to partner with Palantir and utilise their Foundry platform to support EOS operations.
"I am excited about the platform that we are developing together with Palantir. We are bringing EOS' space surveillance and space domain awareness capabilities into an integrated mission system that is designed to be interoperable with US and other allied networks.
"Palantir's Foundry is extensible and scalable, and has facilitated the rapid development of new products to provide actionable information for allied space forces."
Palantir Australia's Mike Kelly reiterated that Palantir was privileged to work alongside EOS on the SACT project.
"It has been my privilege to have known and worked with the team at EOS for many years. They are one of the great Australian stories in terms of their remarkable innovation and contribution to our sovereign capability. I am very excited that we had the opportunity to engage in this partnership and to demonstrate the range of uses and practical applications of our Foundry platform," Kelly said.
[Related: EOS unveils new space debris threat mitigation laser]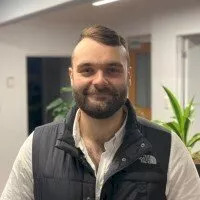 Liam began his career as a speechwriter at New South Wales Parliament before working for world-leading campaigns and research agencies in Sydney and Auckland. Throughout his career, Liam has managed and executed a range of international media and communications campaigns spanning politics, business, industrial relations and infrastructure. He's since shifted his attention to researching and writing extensively on geopolitics and defence, specifically in North Africa, the Middle East and Asia. He holds a Bachelor of Commerce from the University of Sydney and is undertaking a Masters in Strategy and Security from UNSW Canberra.
Receive the latest developments and updates on Australia's space industry direct to your inbox. Subscribe today to Space Connect here.