New Australian space start-up Quasar Satellite Technologies has officially launched, supported by technology developed by the CSIRO, which is expected to bolster communications capability between ground stations and deployed satellites. 
Quasar has secured $12 million in funding to support its operations, along with technology and industry expertise from CSIRO, Main Sequence, the Office of the NSW Chief Scientist & Engineer, and Australian companies Vocus, Saber Astronautics, Fleet Space Technologies, and Clearbox Systems.
Quasar aims to capitalise on the US$130 billion ($167.5 billion) satellite ground communications market, leveraging technology developed by the CSIRO for radio telescopes like the ASKAP telescope in Western Australia.
CSIRO chief executive Dr Larry Marshall said the partnership would support jobs growth in the space industry.
"CSIRO has been a leader in radio astronomy and spacecraft communications for more than 60 years, from supporting the moon landing in 1969 to inventing and delivering the phased-array feeds in Australia's newest radio telescope, ASKAP in Western Australia," Dr Marshall said.
"CSIRO's technology breakthrough enabled the world to connect without wires using fast Wi-Fi, and now our technology will help connect satellites using our breakthrough phased array technology."
According to Quasar CEO Phil Ridley, the technology would enable new satellite-based business models and opportunities previously hindered by legacy ground station technology.
"Space is the highway of the stars, but current ground station technology is the equivalent of one-lane on-ramps," Ridley said.
"By making it possible to communicate with hundreds of satellites simultaneously, we'll be able to ensure the thousands of satellites launching over the next decade have a way to call home efficiently."
Dr Ilana Feain, CSIRO commercialisation specialist and a founding director of Quasar, noted the benefits of cross-industry support for the newly launched start-up.
"CSIRO's phased array technology revolutionised radio astronomy by enabling ASKAP to see enormous portions of the sky at once – about 30 times the area that conventional telescopes could see," Dr Feain said.
"I'm excited to see the next evolution of this technology empower satellite businesses and their downstream industries."
Quasar is expected to offer the technology 'as a service', enabling commercial and public sector partners to access data from satellites in low, medium and geostationary orbit.
Quasar is building the technology using an Australia-based team with expertise and research support from CSIRO.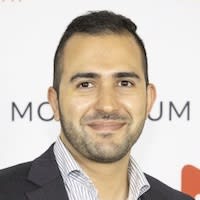 News Editor – Defence and Cyber, Momentum Media
Prior to joining the defence and aerospace team in 2020, Charbel was news editor of The Adviser and Mortgage Business, where he covered developments in the banking and financial services sector for three years. Charbel has a keen interest in geopolitics and international relations, graduating from the University of Notre Dame with a double major in politics and journalism. Charbel has also completed internships with The Australian Department of Communications and the Arts and public relations agency Fifty Acres.
Receive the latest developments and updates on Australia's space industry direct to your inbox. Subscribe today to Space Connect here.