The company is a subsidiary of Australia's Electro Optic Systems Holdings Limited (EOS) and was selected by the Centre for the Advancement of Science in Space (CASIS).
CASIS is the manager of the US National Laboratory of the ISS.
The Northern Virginia company is expected to perform the demonstration in 2024.
SpaceLink will use a 10 Gigabit per second optical terminal to exchange real-time voice, video and data between the ISS crew and the ground from low-Earth orbit (LEO).
This technology is competitive, as spacecraft in the LEO requires "fast, continuous, high-capacity connectivity" when performing missions and doing work in space, according to SpaceLink.
"Our demonstration on the ISS is the first step to proving SpaceLink's capabilities to advance space science and the emerging space economy," said David Bettinger, SpaceLink CEO.
Bettinger said it is an "important milestone" as part of SpaceLink's roadmap to providing this technology to close allies.
Relay satellites are technology that transmit data from the ground and space interchangeably.
NASA said that satellites in orbit cannot pass along their information to Earth without a clear view of the ground – that is where a relay satellite comes into play.
NASA's version is the Tracking and Data Relay Satellite (TDRS), which sits around 35,400 kilometres above Earth and transmits information to the grounds at White Sands, New Mexico or Guam Island.
 SpaceLink, however, wants to "pick up" where the TDRS "leaves off", and reach "beyond with unprecedented capacity" compared with any other technology on the market. 
Inter-satellite links between relay satellites allow data to transfer to wherever the customer wants it on Earth, without "landing" elsewhere, according to SpaceLink.
"Working with CASIS to put optical communications on the ISS is a major milestone for SpaceLink and for the future of the global satellite communications market," said Glen Tindall, CEO of EOS.
Tindall said this will serve major space companies in the US and Australia as it also meets requirements of the US government.
On 28 July, CASIS notified SpaceLink of its intent for a user agreement, and an expected program schedule will be completed in the coming months before the commencement in 2024.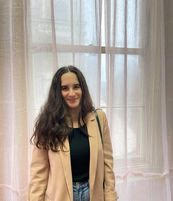 Bella Richards is a journalist who has written for several local newspapers, her university newspaper and a tech magazine, and completed her Bachelor of Communications (Journalism) at the University of Technology Sydney in 2020. She joined Momentum Media in 2021, and has since written breaking news stories across Space Connect, Australian Aviation and World of Aviation.
You can email Bella on: [email protected]
Receive the latest developments and updates on Australia's space industry direct to your inbox. Subscribe today to Space Connect here.