Satellite data and analytics provider Synspective has acquired its first image from its 100kg-class SAR satellite 'StriX-α'.
The image was secured on 8 February, less than a month after StriX-α was launched by Rocket Lab's Electron from New Zealand's Mahia Peninsula launch site and sent at an altitude of 500 kilometres in a sun synchronous orbit (SSO).
The second demonstration satellite 'StriX-β' is scheduled to be launched in 2021, with the aim of demonstrating InSAR (Interferometric SAR) technology in orbit — SAR analytics technique designed to detect millimetre-level displacements on the ground surface.
Synspective aims to develop a constellation of six satellites by 2023 and 30 satellites by the late 2020s, ultimately enabling it to observe the location of natural disasters occurring anywhere in the world within two hours.
The start-up is currently developing an automated process that analyses the observed data and assesses the disaster location before providing a solution.
"For a satellite data solution company, the most difficult but the most crucial milestone is the acquisition of data from an own-built satellite," Dr Motoyuki Arai, founder and CEO at Synspective, said.
"Thanks to many years of hard work, including the ImPACT program, we have just obtained this great achievement. I would like to express our sincere gratitude to our team and am proud to move forward together.
"Now, we are proceeding with preparations for data sales. As launching the StriX-β within this year, we are planning to release more solution services using our own data. We will ensure to continue producing results in order to create a more efficient and resilient world."
Toshihiro Obata, board director and general manager of Satellite System Development Department, added, "We are very happy that all the efforts of our development team members achieved this successful early demonstration.
"We continue to give further efforts to improve the quality of image and provide solutions. With partners, we are currently setting up a secure line for our satellite serial productions, by introducing manufacturing and quality control technologies from the non-space industries."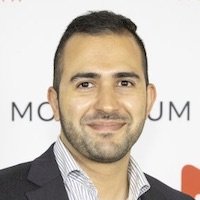 News Editor – Defence and Cyber, Momentum Media
Prior to joining the defence and aerospace team in 2020, Charbel was news editor of The Adviser and Mortgage Business, where he covered developments in the banking and financial services sector for three years. Charbel has a keen interest in geopolitics and international relations, graduating from the University of Notre Dame with a double major in politics and journalism. Charbel has also completed internships with The Australian Department of Communications and the Arts and public relations agency Fifty Acres.
Receive the latest developments and updates on Australia's space industry direct to your inbox. Subscribe today to Space Connect here.