The companies have signed a distribution partnership agreement to provide low-Earth orbit (LEO) satellite communication services for defence and government applications.
Airbus has agreed to offer new communication services leveraging the OneWeb constellation to select European and UK armed forces, and civil protection and security forces, as of the close of 2021.
The companies plan to develop a bespoke range of secure services for military operations on land, at sea, and in the air.

The LEO constellations support the development of a new generation of terminals and antennas of reduced size, weight and power, which can offer real-time space communications, transmitting live video streams from sensors such as those embarked on UAVs.
This is tipped to provide armed forces with high-speed, all-IP (Internet Protocol) communications, enabling the prioritisation of communication flows and ensuring a high level of availability.
Existing services and networks can be complemented by switching between LEO and GEO (geostationary orbit) satellite communications during operations.
"With the OneWeb LEO constellation we can offer military customers real flexibility as we look to deliver the future integrated mesh networks, combat cloud and information superiority that demand these new and innovative approaches," Evert Dudok, executive vice president of connected intelligence at Airbus Defence and Space, said.
"With this new offering based on the OneWeb constellation and Airbus technology, we will be the very first provider to offer this type of service to European forces."

Neil Masterson, OneWeb CEO, welcomed the opportunity to work alongside Airbus and expand the company's market footprint.
"We are thrilled to expand our work with Airbus to meet the connectivity needs of European defence and security agencies on land, at sea and in the air," he said.
"Our network will enable secure, resilient, real-time communications for military and civilian government organisations, starting in the Arctic and expanding to global mobility use cases."

The Airbus designed OneWeb satellites are currently produced at the Airbus OneWeb Satellites facility in Florida.
Following an initial start of service over the Arctic area from North Pole to the 50th parallel, OneWeb's offering is expected to be available with global coverage of the Earth by the end of 2022 with a constellation of 648 satellites in LEO.
This article is courtesy of Defence Connect.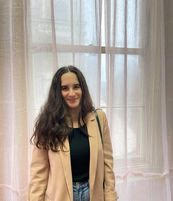 Bella Richards is a journalist who has written for several local newspapers, her university newspaper and a tech magazine, and completed her Bachelor of Communications (Journalism) at the University of Technology Sydney in 2020. She joined Momentum Media in 2021, and has since written breaking news stories across Space Connect, Australian Aviation and World of Aviation.
You can email Bella on: [email protected]
Receive the latest developments and updates on Australia's space industry direct to your inbox. Subscribe today to Space Connect here.