Flavia Tata Nardini, the chief executive and co-founder of Australia's Fleet Space Technologies says that like how mobile phones were once bulky and fairly useless but are now smaller and smarter; satellites are going through the same phase.
South Australian-based Fleet is launching the only commercial nanosatellites in Australia, aiming to boost connectivity across all sectors in a cheaper and more accessible way.
In Space Connect's latest podcast episode, Nardini explains why nanosatellites are important, and how these are furthering Australia's space industry, despite still being in the early stages of development.
What are nanosatellites?
Nanosatellites, or also known as small satellites or CubeSat's, typically weigh less than 10 kilograms.
Nanosatellites can be used for varying applications such as telecommunications, mining, agriculture, defence, Earth observation and more, just like typical ones.
Larger satellites can weigh up to 1,000 kilograms, and while less governments and companies are launching bigger ones, they still have served the space industry for many decades.
While nanosatellites' span of view may be smaller, many providers have switched to launching constellations of them into space, which are easier to maintain, and if some fail or are destroyed, the others can compensate, according to Nardini.
They started big, but are getting smaller
The first satellite ever launched was by the Soviet Union in 1957, named Sputnik 1. It weighed around 80 kilograms and orbited for three weeks before its batteries ran out.
Sputnik 1 and many satellites after it paved the way for the space industry, and now there are thousands of satellites in low-Earth orbit serving the world's connectivity, military, monitoring and observation needs.
"We need to understand that every technology takes time in the history of humankind, so that everyone can benefit from it," Nardini said.
"You know, we started with massive supercomputers that were as big as a room that just government or NASA could use, and then look forward 30 or 40 years, and everyone has got an iPhone."
Similarly, satellites are getting smaller and more accessible, following decades of them being large and only used by governments and space agencies. But they still aren't perfect, Nardini says.
"I think we are in that phase. Small satellites are small, and like a small phone, there is no battery, not enough data … there are these small satellites, they look very basic, they do basic things, but we like the fact that they're small, and then we work to make them good."
Should Australia launch more nanosatellites?
Many Australians are already launching nanosatellites into space, such as the University of Sydney's CUAVA-1 and Curtin's Binar-1 small-sat, and Nardini believes it is even more important for the nation to invest in nanosatellites due to our infrastructure "struggling to keep up" with the vast remote land.
"We are all trying to move into a more environmentally sustainable planet," she said. Manufacturers are pushing for solar farms and sustainable fuel for cars, but companies need to search for these resources efficiently.
Lithium resources are in strong demand in Australia, as it is used for the development of electric vehicles, and Nardini says without satellites monitoring remote land, it will be difficult to find.
"We can use satellites to help look for some more lithium or copper … we can find it and satellites can come into rescue," Nardini added.
Nanosatellites are also critical for Earth observation applications, allowing for better preparation when it comes to weather events like bushfires, floods and storms.
Almost 40 per cent of the world's population have no access to internet, mostly in developing countries, according to a UN agency's data from December 2021. Nardini says that nanosatellites will allow for the most remote areas to even be connected soon.
"Eventually the satellites will provide satellite connectivity for your phone so you can't be out, outside in the middle of nowhere not having connectivity anymore."
Although nanosatellites are being manufactured rapidly across the globe, large satellites are still being utilised for defence capabilities - but not for long.
At the inaugural Australian Space Summit on Thursday, South Australian Senator the Hon David Fawcett and chair of the joint standing committee on foreign affairs, defence and trade said the nationwide Joint Project 9102 may be the last time the government invests in a large satellite.
JP9102 is the name for the $3 billion project to create a new military satellite communication capability for Australia. It's hoped it will eventually reduce the country's reliance on the United States' defence capabilities, including the US military's Wideband Global SATCOM (WGS).
"[JP9102] will potentially be one of the last major programs when talking [about] satellites measuring in tonnes as opposed to smaller systems," he said in a panel.
"Space is becoming more congested and contested, which is a large theme of our defence space strategy. But what that means is, resilience [is] not just defending exquisite capabilities from large satellites, but potentially through multiple small satellites... providing similar capabilities."
What about space weather?
Despite the benefits of launching technology into orbit, manufacturers still consider space weather a main concern as all spacecraft are exposed to many unforeseeable solar events.
Such weather includes geomagnetic storms – like the one that destroyed 38 Starlink satellites in February – or solar flares that can cause blackouts on entire cities for hours.
Nardini says that while satellites cannot avoid being exposed to space weather, nanosatellites pose a particular advantage compared to larger ones.
It's about "building satellites that can die, and you can bring them down very fast, then launch another one without having to put debris everywhere," she said.
Engineers are faced with the unfortunate event of rebuilding large satellites when they are destroyed, which is costly and time consuming.
Constellations of nanosatellites can address this issue, according to Nardini, by essentially equipping operators with many backups in case a few get destroyed, or even fail.
"If we keep building these technologies that are ancient, and they stay up there, and then they die – then that's not going to work," Nardini said.
Despite small satellites still refining and improving, Nardini argues that these are the future of space technology.
"It's a bit of a shift in thinking," Nardini said. "It's not about failing or not failing, it's about how you react when you fail, and how fast you can react to it, and that's what happens when you go from launching one satellite, to launch 10,000.
"It's a complicated exercise … but the dream is, can satellites really support connectivity so much that no one ever get lost without communication?"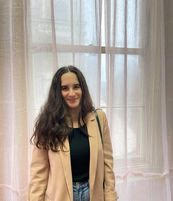 Bella Richards is a journalist who has written for several local newspapers, her university newspaper and a tech magazine, and completed her Bachelor of Communications (Journalism) at the University of Technology Sydney in 2020. She joined Momentum Media in 2021, and has since written breaking news stories across Space Connect, Australian Aviation and World of Aviation.
You can email Bella on: [email protected]
Receive the latest developments and updates on Australia's space industry direct to your inbox. Subscribe today to Space Connect here.