Two hikers walking in Arthur's Pass National Park, northwest of Christchurch, activated the service last week when they realised rising water levels made crossing a river unsafe. The pair were crucially in an area unable to receive a traditional mobile signal.
The alert led to West Coast Air Rescue dispatching a rescue helicopter to lift them to safety.
It comes after Apple launched the feature in May, which uses Globalstar satellites and was already operational in the US, the UK, and parts of Europe.
The tech giant invested $450 million into the low-Earth orbit satellite service, which included upgrading its ground stations to enable it to work.
"Delivered in partnership with Globalstar, Apple's emergency SOS via satellite service utilises the spectrum in L and S bands specially designated for mobile satellite services by ITU Radio Regulations," said Apple at its launch.
"When an iPhone user makes an emergency SOS via satellite request, the message is received by one of Globalstar's 24 satellites in low-Earth orbit travelling at speeds of approximately 16,000mph. The satellite then sends the message down to custom ground stations located at key points all over the world.
"Once received by a ground station, the message is routed to emergency services that can dispatch help or a relay centre with Apple-trained emergency specialists if local emergency services cannot receive text messages.
"The ground stations use new high-power antennas designed and manufactured specifically for Apple by Cobham Satcom in Concord, California. Cobham's employees engineer and manufacture the high-powered antennas, which will receive signals transmitted by the satellite constellation.
"Along with communicating via text with emergency services, iPhone users can launch their Find My app and share their location via satellite when there is no cellular and Wi-Fi connection, providing a sense of security when off the typical communications grid."
To use the service, users in Australia call 000 (or 111 in New Zealand) and hit the emergency SOS button if they can't otherwise reach the traditional emergency services.
The feature then sends details of the person's emergency, location, iPhone battery level, and medical ID to Apple-trained emergency specialists, who then talk back via text.
Users are also aided in helping to point their phone to the sky to pick up a satellite connection.
Greg Joswiak, an Apple senior vice-president, said some of the most popular places to travel lack cellular coverage.
"With emergency SOS via satellite, the iPhone 14 lineup provides an indispensable tool that can get users the help they need while they are off the grid."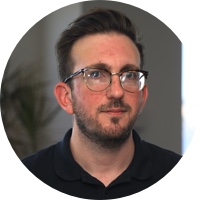 Adam is a journalist who has worked for more than 40 prestigious media brands in the UK and Australia. Since 2005, his varied career has included stints as a reporter, copy editor, feature writer and editor for publications as diverse as Fleet Street newspaper The Sunday Times, fashion bible Jones, media and marketing website Mumbrella as well as lifestyle magazines such as GQ, Woman's Weekly, Men's Health and Loaded. He joined Momentum Media in early 2020 and currently writes for Australian Aviation and World of Aviation.
Receive the latest developments and updates on Australia's space industry direct to your inbox. Subscribe today to Space Connect here.