The billionaire has also hinted SpaceX would be capable of providing services to the International Space Station in place of Russian spacecraft, in response to a series of tweets from Roscosmos' director general over the weekend. 
In a tweet on 27 February, Elon Musk said: "Starlink service is now active in Ukraine. More terminals en route."
It came as a response to Vice Prime Minister of Ukraine Mykhailo Fedorov's tweet a day before, pleading for SpaceX's services due to the rising internet issues.
"While you try to colonize Mars — Russia try to occupy Ukraine! While your rockets successfully land from space — Russian rockets attack Ukrainian civil people! We ask you to provide Ukraine with Starlink stations and to address sane Russians to stand."
Starlink uses low-orbit satellites to provide download speeds of up to 200 Mb/s to users – far quicker than the 25-30 Mb/s typically provided by its higher-orbit rivals.
However, due to the current war, Ukraine has suffered internet connectivity issues in the past week, particularly in the southern and eastern parts of the country.
GigaTrans, Ukraine's primary internet provider, saw its connectivity drop to below 20 per cent of normal levels last Thursday, according to NetBlocks, an internet monitoring agency.
"We currently observe national connectivity at 87 percent of ordinary levels, a figure that reflects service disruptions as well as population flight and the shuttering of homes and businesses since the morning of the 24th," Alp Toker, director of NetBlocks, told Reuters.
But on Tuesday, 1 March, Fedorov tweeted that the satellites had arrived: "Starlink – here. Thanks, @elonmusk", to which the SpaceX founder said, "You are most welcome."
Starlink — here. Thanks, @elonmusk pic.twitter.com/dZbaYqWYCf

— Mykhailo Fedorov (@FedorovMykhailo) February 28, 2022
According to Twitter users shortly after, it appeared the Starlink satellites were up and running.
However, John Scott-Railton, a senior researcher on connectivity and digital security, said on Twitter that while Starlink's "donation" is "good to see", Russia could use them as "beacons for airstrikes" in a thread.
Re: @elonmusk's starlink donation.

Good to see.

But remember: if #Putin controls the air above #Ukraine, users' uplink transmissions become beacons... for airstrikes.

Some background 1/ pic.twitter.com/0p6J87TtUF

— John Scott-Railton (@jsrailton) February 27, 2022
Amid the connectivity issues, Elon Musk also responded to Roscosmos' Dmitry Rogozin's tweets over the weekend, where he protested against President Joe Biden's sanctions that would impact Russia's space operations.
"Do you want to destroy our cooperation on the ISS?" Rogozin said in a Twitter thread. "… Or do you want to manage the ISS yourself?"
Russia is one of five contributing parties to the ISS, others include Japan, Canada, Europe and the US, and its presence is critical to the ongoing navigation and control of the space station.
"If you block cooperation with us, who will save the ISS from an uncontrolled deorbit and fall into the United States or … Europe?"
In response, Musk posted an image of the SpaceX logo, and when asked if this meant the company could replace Russia's spacecraft, the billionaire said, "Yes."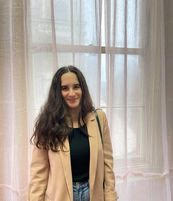 Bella Richards is a journalist who has written for several local newspapers, her university newspaper and a tech magazine, and completed her Bachelor of Communications (Journalism) at the University of Technology Sydney in 2020. She joined Momentum Media in 2021, and has since written breaking news stories across Space Connect, Australian Aviation and World of Aviation.
You can email Bella on: [email protected]
Receive the latest developments and updates on Australia's space industry direct to your inbox. Subscribe today to Space Connect here.