Ties between Russia's space sector and other nations, such as the US, have already dwindled in recent years, and now tensions continue to rise amid the war with Ukraine. 
While NASA has pledged the sanctions will not impact civil US-Russia space operations, director general of Roscosmos Dmitry Rogozin said in a Twitter thread the nation was acting like an "irresponsible gamer" and should reconsider its "Alzheimer's sanctions".
In a press conference on 25 February, President Joe Biden said: "Between our actions and those of our allies and partners, we estimate it [sanctions] will cut off more than half of Russia's high-tech imports, construct a blow to the ability to continue to modernise their military.
"It'll degrade the aerospace industry, including their space program, and part of their ability to build ships, reducing their ability to compete economically, and will be a major hit to put long term strategic ambitions," he said.
While President Biden's remarks did not detail how the US sanctions would impact Russia's space sector directly, Roscosmos acted quickly in response.
In a series of tweets, Rogozin questioned the US' motives, such as whether the nation intended to block Russia's spacecraft production or ban other countries to launch their spacecraft from the Soyuz rockets.
"Do you want to destroy our cooperation on the ISS?" Rogozin said. "… Or do you want to manage the ISS yourself?"
Russia is one of five contributing parties to the ISS, others include Japan, Canada, Europe and the US, and its presence is critical to the ongoing navigation and control of the space station. 
"If you block cooperation with us, who will save the ISS from an uncontrolled deorbit and fall into the United States or … Europe?"
Rogozin questioned how the US would perform ISS re-boosting maneuvers without Russia's Progress spacecraft, as it thrusts the station into a higher orbit to maintain its altitude in space.
However, last week, a Northrop Grumman Cygnus spacecraft launched to the ISS for a three-month stay to provide cargo for the astronauts, and to also re-boost the station as an alternative to Russia's Progress.
Rogozin also said in light of the new sanctions from the US, he considered the "participation" of the US in Russia's project to build an interplanetary station 'Venera-D', "inappropriate".
The project is a proposed Russian space mission to Venus that would include an orbiter and lander to be launched in 2029.
In response to Rogozin's Twitter rant, NASA said in a statement, according to Reuters, it was continuing its work with its international partners "for the ongoing safe operations of the International Space Station".
"The new export control measures will continue to allow US-Russia civil space operations," NASA said. "No changes are planned to the agency's support for ongoing in-orbit and ground-station operations."
Days before President Biden's speech, the EU also imposed its first batch of sanctions on Russia such as freezing its financial assets and imposing travel bans on several members of the state.
In response to this, Roscosmos withdrew its personnel and launch crew from the French Guiana Space Centre in Kourou.
The agency said its 87 employees that support the launches of Soyuz rockets were being withdrawn and the details were still "being worked out".
However, EU commissioner for space Thierry Breton said in a statement on Saturday the decision has "no consequences on the continuity and quality of the Galileo and Copernicus services".
"Nor does this decision put the continued development of these infrastructures at risk.
"We will take all relevant decisions in response to this decision in due course and continue developing resolutely the second generation of these two EU sovereign space infrastructures," Breton added.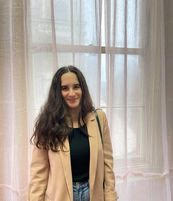 Bella Richards is a journalist who has written for several local newspapers, her university newspaper and a tech magazine, and completed her Bachelor of Communications (Journalism) at the University of Technology Sydney in 2020. She joined Momentum Media in 2021, and has since written breaking news stories across Space Connect, Australian Aviation and World of Aviation.
You can email Bella on: [email protected]
Receive the latest developments and updates on Australia's space industry direct to your inbox. Subscribe today to Space Connect here.