Hewitt believes that a launch industry in Australia will "galvanise the community behind space" and prove that the country does have sovereign capability.
His comments were made at the Australian Space Summit in late March, in a panel discussing the nation's launch progress.
"There is one way to access space, and that is to launch, and if we're manufacturing here and we are designing and developing here, then we can only go so far if we are not launching here," he said.
"It is amazing that we are able to develop really sophisticated satellites, and some of which are already in orbit, but once we put an Australian satellite on an Australian launch vehicle and launch it from Australia, then the community will really recognise that space is a truly Australian industry."
Since the agency was created in 2018, many Australian companies have been born to establish a local launch industry.
Queensland-based Gilmour Space Technologies is set to launch its Eris rocket into orbital space later this year, Equatorial Launch Australia is launching sounding rockets for NASA in Arnhem Land in coming months and Black Sky Aerospace is manufacturing launch technology.
Other contenders include South Australia-based Southern Launch who is scheduled to perform its next attempt of blasting off a Taiwanese rocket into space from Whalers Way soon, as part of an ongoing launchpad trial.
In March, the federal government also reduced current barriers to accessing space, by slashing launch fees that were introduced in early 2020, but received nationwide complaints.
The ramp-up of a sovereign launch industry comes as Australia attempts to rely less on its international partners, like the United States and Europe.
Glenn Tindall, the chief executive officer of EOS Space Systems, a space technology manufacturing company, said on the same panel that sovereign launch capabilities are essential, as "we can no longer assume we can go overseas for everything".
Tindall said that while we need to launch from Australia, we also need to have something to launch to remain sustainable. 
"We need to progress both in parallel, where we've got assets being developed on the ground and a continual pipeline of work coming through so that we have multiple launches per year to create the sustainability we need within the launch industry.
"And equally, we need programs which require multiple satellite launches," he said.
While sovereign launch capability is a hot topic in Australia, not everyone agrees it is what the nation should invest in.
Brett Biddington, a veteran in the space and defence industry, and the founder of Biddington Research which specialises in space and cyber policy believes Australia should focus on building more ground stations due to its geographical location.
In a recent Space Connect Podcast episode, Biddington said: "Australia is a great place for ground stations and receiving data from all sorts of satellites."
Ground stations are essential to collecting and streaming satellite data, and also communicating with spacecraft in orbit. 
He said if Australia invests in launches, companies will struggle with the market in the coming years, and he believes that is "where we are today".
"Australia is not all too good to launch things from no matter what others will say. There's no really great advantage that we can offer from our geography over already existing sites in other parts of the world," he said.
Biddington believes ground stations, like Pine Gap and Woomera that have supported space missions for decades, is where Australia's real strengths lie.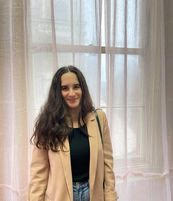 Bella Richards is a journalist who has written for several local newspapers, her university newspaper and a tech magazine, and completed her Bachelor of Communications (Journalism) at the University of Technology Sydney in 2020. She joined Momentum Media in 2021, and has since written breaking news stories across Space Connect, Australian Aviation and World of Aviation.
You can email Bella on: [email protected]
Receive the latest developments and updates on Australia's space industry direct to your inbox. Subscribe today to Space Connect here.