On Tuesday, 30 November, astronauts Thomas Marshburn and Kayla Barron will spend six and a half hours replacing the system S-band Antenna Subassembly (SASA) located on the Port 1 truss structure.
It will come only two weeks after the astronauts landed on the ISS, launching onboard the SpaceX Dragon spacecraft "Endurance" on Thursday, 11 November for their six-month stay.
According to the agency, the antenna recently lost its ability to send signals to Earth via its Tracking and Data Relay Satellite System – NASA's primary satellite for space and Earth communications.
"Although its degradation has had limited impact on station operations, mission managers decided to install a new antenna to ensure communications redundancy," NASA said in a statement.
NASA said the station transmits low-rate voice and data with flight controls on the ground through the antenna.
While the antenna stopped working, the station has deployed additional low-rate S-band systems as well as high-rate KU-band communication systems that relay videos to ground controllers.
Marshburn and Barron will exit the Quest airlock at around 7:10am EST to replace the antenna with a spare available on the ISS' truss structure.
Marshburn was the pilot of the Endurance upon launching to the ISS and is the second-in-command for the mission. This marks his third visit to the space station and his fifth spacewalk.
He will position himself at the end of the Canadarm2 robotic arm – a Canadian-built robot that assists in maintenance and supply movement on the ISS – working in tandem with Barron.
Barron is mission specialist of the Crew-3, and this is her first spaceflight after being selected by NASA in 2017 – and her first spacewalk.
Astronaut Matthias Maurer from the European Space Agency will work with the crew by controlling the robotic arm from inside the space station.
NASA says Marshburn will wear a spacesuit with red stripes and Barron will wear an unmarked spacesuit.
This will mark not only the first spacewalk for the Crew-3 team, but the station's 245th for assembly, maintenance and upgrades, NASA said.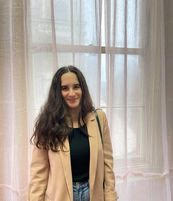 Bella Richards is a journalist who has written for several local newspapers, her university newspaper and a tech magazine, and completed her Bachelor of Communications (Journalism) at the University of Technology Sydney in 2020. She joined Momentum Media in 2021, and has since written breaking news stories across Space Connect, Australian Aviation and World of Aviation.
You can email Bella on: [email protected]
Receive the latest developments and updates on Australia's space industry direct to your inbox. Subscribe today to Space Connect here.