Scientists believe the galaxy CEERS 1019 existed just over 570 million years after the big bang and its black hole is "less massive" than any other yet identified in the early universe.
The breakthrough came as part of the CEERS program that aims to make discoveries by combining Webb's highly detailed near- and mid-infrared images and data, known as spectra.
Other discoveries as part of the program, led by Steven Finkelstein of the University of Texas at Austin, included identifying 11 galaxies that existed when the universe was 470 to 675 million years old.
"CEERS 1019 is not only notable for how long ago it existed but also how relatively little its black hole weighs," said NASA, announcing the news.
"This black hole clocks in at about 9 million solar masses, far less than other black holes that also existed in the early universe and were detected by other telescopes.
"Those behemoths typically contain more than 1 billion times the mass of the sun — and they are easier to detect because they are much brighter. They are actively 'eating' matter, which lights up as it swirls toward the black hole.
"The black hole within CEERS 1019 is more similar to the black hole at the centre of our Milky Way galaxy, which is 4.6 million times the mass of the sun. This black hole is also not as bright as the more massive behemoths previously detected.
"Though smaller, this black hole existed so much earlier that it is still difficult to explain how it formed so soon after the universe began.
"Researchers have long known that smaller black holes must have existed earlier in the universe, but it wasn't until Webb began observing that they were able to make definitive detections."
Rebecca Larson of the University of Texas at Austin, who led this discovery, said, "Looking at this distant object with this telescope is a lot like looking at data from black holes that exist in galaxies near our own.
"There are so many spectral lines to analyse!"
The telescope — known as the spiritual successor to Hubble — launched on Christmas Day in 2021 and published its first images in July last year.
James Webb is a collaboration between NASA, the European Space Agency, the Canadian Space Agency, and French launch provider Arianespace.
Its mission — dubbed VA256 — has been in the making for 14 years and it's hoped Webb will be able to reveal what the universe looked like almost 14 billion years ago.
Webb is also set to mark one year since publishing its first image with multiple events that will take place online and live across the US on Wednesday.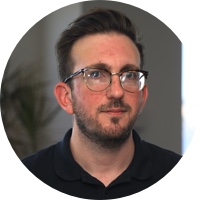 Adam is a journalist who has worked for more than 40 prestigious media brands in the UK and Australia. Since 2005, his varied career has included stints as a reporter, copy editor, feature writer and editor for publications as diverse as Fleet Street newspaper The Sunday Times, fashion bible Jones, media and marketing website Mumbrella as well as lifestyle magazines such as GQ, Woman's Weekly, Men's Health and Loaded. He joined Momentum Media in early 2020 and currently writes for Australian Aviation and World of Aviation.
Receive the latest developments and updates on Australia's space industry direct to your inbox. Subscribe today to Space Connect here.