The current head of the Australian Space Agency began his career working as a mechanical engineer to support offshore platforms before rising to become COO at Virgin Galactic.
Palermo accepted the title at a graduation ceremony in Winthrop Hall and said his grandfather was his source of inspiration.
"Space is the spark of light that often gets people into science, technology, engineering and maths fields, so we have an enormous responsibility to bring space to the nation," he said.
"My Nonno taught me how things work in the world and, in many respects, was the person who got me on the journey of loving science and engineering."
Palermo's career history in space is regarded as one of the most esteemed of any Australian.
He began his studies at UWA in 1997 and graduated with two first-class honours in both applied mathematics and physics, and also mechanical engineering.
After stints at Woodside Energy and SPS Worldwide, he was repeatedly promoted to become one of Sir Richard Branson's most senior lieutenants.
He served as COO of Virgin Galactic and president of its subsidiary spacecraft manufacturing business, The Spaceship Company, before returning to Australia to take up his current role.
On accepting the award, he added space could be a driving force in helping protect the environment.
"The reason we know the condition of our planet in many ways is because we observe space from Earth," Palermo said.
"Many of the variables, many of the elements in climate modelling rely on space data, so by having an effective space industry here in Australia, it is going to enable us to deal with the challenges of climate change but also make us more resilient to natural disasters which unfortunately are occurring at a faster frequency."
Pru Steinerts, from UWA's International Space Centre, said she was delighted the now Dr Palermo had been awarded with such an honour.
"Dr Palermo continues to be a huge inspiration to UWA's students, and his journey demonstrates what is possible not only in space but as a successful and influential engineer," Steinerts said.
Palermo urged science graduates never to stop learning and grab every opportunity.
"Diverse experiences, positions of discomfort and pushing the boundaries are where you grow the most, innovate the most and learn the most."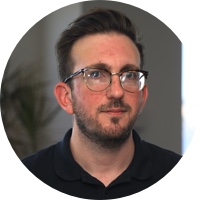 Adam is a journalist who has worked for more than 40 prestigious media brands in the UK and Australia. Since 2005, his varied career has included stints as a reporter, copy editor, feature writer and editor for publications as diverse as Fleet Street newspaper The Sunday Times, fashion bible Jones, media and marketing website Mumbrella as well as lifestyle magazines such as GQ, Woman's Weekly, Men's Health and Loaded. He joined Momentum Media in early 2020 and currently writes for Australian Aviation and World of Aviation.
Receive the latest developments and updates on Australia's space industry direct to your inbox. Subscribe today to Space Connect here.