On Tuesday 5 October, Russia's Soyuz-2.1a carrier rocket successfully launched with the Soyuz MS-19 crewed spacecraft from Baikonur Cosmodrome at 8:55 UTC –11:55am, Moscow time.  
The all-Russian crew included Roscosmos astronaut and MS-19 commander, Anton Shkaplerov, filmmaker Klim Shipenko, and 37-year-old actress Yulia Peresild.
According to the Russian Space Agency (RSA), the MS-19 docked on the ISS at around 8:22am EDT – three hours and 17 minutes after lift-off, slightly behind schedule. 
Apparently, it was set to dock at 8:12am, but Shkaplerov was forced to manually steer the spacecraft to dock due to issues with mission control communications.
The CEO of Russia's TV Channel One, Konstantin Ernst told Russia's news agency TASS on Tuesday: "Anton Shkaplerov went to manual. Yulia assisted him."  
The launch marked the three-stage Soyuz-2.1a rocket's fourth blast-off with a crew on board, the RSA said.
After arriving, the crew met with astronauts Oleg Novitskiy, Pyotr Dubrov, Mark Vande Hei, Shane Kimbrough, Megan MacArthur, Thomas Pesquet and Akihiko Hoshide.
"Docking!" said cosmonaut Novitskiy – who has been stationed on the ISS since April 2021 – on Twitter as the capsule latched.
"Welcome to the International @Space_Station @Anton_Astrey Yulia and Klim! We have already prepared dinner for you."
The film project called The Challenge will be a landmark mission in television and space history.
According to a tweet from the space agency, the film is about a female doctor who has one month to prepare for an important mission on the ISS.
Shipenko told TASS on Monday that Anton Shkaplerov will also act in the film.
"Anton will play the role of a cosmonaut who helps the character of Yulia [Peresild] save a friend who needs help – Oleg Novitsky. And Pyotr Dubrov will also assist in the 'rescue' operation," he said.
NASA said this mission will "mark the expansion of commercial space opportunities to include feature filmmaking," beyond its capabilities as of yet.  
This year has been significant for the industry, seeing billionaire's Jeff Bezos and Sir Richard Branson perform the first commercial flights to space, widely heralded as the beginning of in-orbit tourism.  
The United States has often spearheaded space innovation, but Russia has now claimed the title of developing the first movie in orbit, despite America previously set on being the first.
In May last year, rumours surfaced about Tom Cruise filming a movie with Elon Musk's SpaceX in collaboration with NASA.
Reports suggest his trip to the ISS for a film could occur soon, but no dates have been set yet.
"Everything was new to us today, every 30 seconds brought something entirely new," said Peresild after arriving.
"It is almost impossible to think that this all came to reality. I also feel like I'm still dreaming."
Peresild has acted in several Russian films, making her debut in 2013 in the television show Land.
In May this year, she was chosen from 3,000 candidates for the role, and has now successfully landed on the station after several months of training.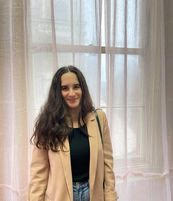 Bella Richards is a journalist who has written for several local newspapers, her university newspaper and a tech magazine, and completed her Bachelor of Communications (Journalism) at the University of Technology Sydney in 2020. She joined Momentum Media in 2021, and has since written breaking news stories across Space Connect, Australian Aviation and World of Aviation.
You can email Bella on: [email protected]
Receive the latest developments and updates on Australia's space industry direct to your inbox. Subscribe today to Space Connect here.