LeoLabs provides a commercial 'mapping platform for space' through its global network of space radars and cloud-based data solutions, which enable safe, secure, and sustainable space operations. LeoLabs announcement to build their sixth radar site near Bunbury in West Australia is a significant investment in the Australian Space Industry. The radar site is the company's sixth in the global network and second to be built in the southern hemisphere. The West Australian Space Radar (WASR), as it will be known, will put Australia firmly on the global map of space surveillance nations. LeoLabs Australia is also proposing to domestically manufacture its next generation 2D phased array space radar systems in Australia under the Federal Government's Modern Manufacturing Collaboration Stream.
Space Situational Awareness (SSA) is the foundation of space safety, sustainability and Space Traffic Management (STM).  LeoLabs is the world's only commercial provider of space radar systems.  Their S-band phased array space radar systems can detect small debris-sized objects down to 2cm in diameter. LeoLabs commissioned their Kiwi Space Radar site in November 2019 and this site alone collects on average 180,000 measurements per day or 7500 per hour. Combined with their latest Costa Rica Space Radar and the rest of their space radar network, LeoLabs is now the biggest provider of object data in Low Earth Orbit (LEO).
LeoLabs Australia have announced that they will construct the company's sixth space radar site, the 'West Australian Space Radar' (WASR), near Bunbury, Western Australia.  Site works will commence in late 2021 and the two radars there are expected to be fully operational by October 2022.  LeoLabs and their global customers recognise the important strategic location of Western Australia. Siting of the WASR near Bunbury will significantly expand LeoLabs coverage of LEO in the southern hemisphere. It also adds critical coverage in the Indo Pacific region that addresses an important early orbit corridor for LEO from Asia, whilst maintaining additional coverage of polar and sun-synchronous orbits in the Indo Pacific region.
"LeoLabs growing network of space radars aims to detect and track the growing debris problem and other threats in low earth orbit, such that space operators can safely and efficiently conduct their space operations" LeoLabs Australia Director Terry van Haren. 
The addition of the new WASR will significantly improve data acquisition, overall performance and LeoLabs' contribution to space safety and sustainability in LEO. The WASR will increase LeoLabs' capacity for tracking small objects and debris and improve timeliness for detecting spacecraft manoeuvres and orbit changes. Modelling with live data suggests that the WASR will conduct on average 200 000 measurements per day (8000 per hour) and see over 8000 radar passes of catalogued objects per day. At 33 degrees south, the WASR will capture 80% of LEO traffic. The orientation of the parallel radar fields of regard have been optimised to compliment the location and orientation of the Kiwi Space Radar.  These two radars alone add significant space surveillance to the Southern Hemisphere.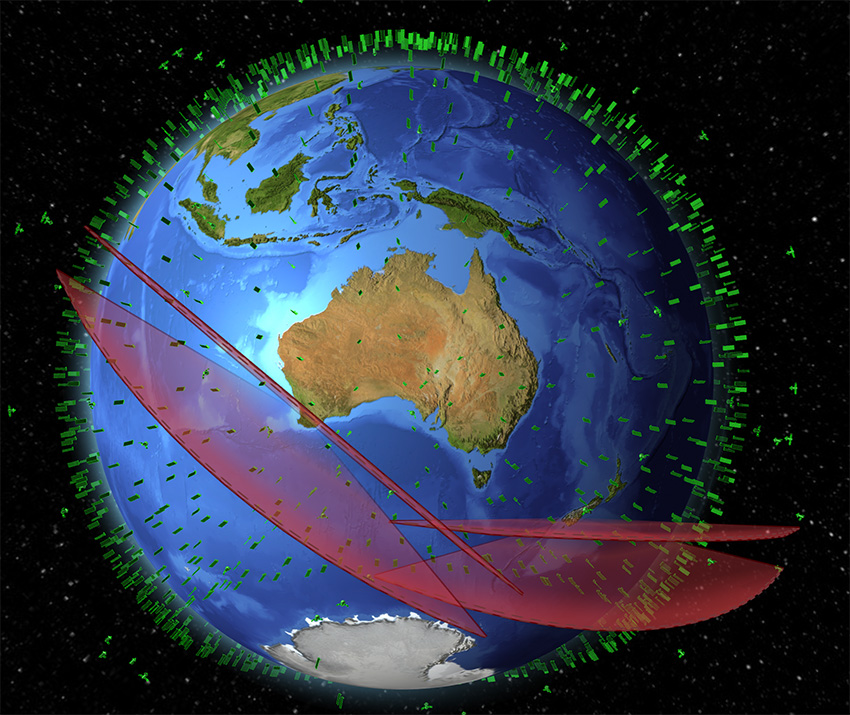 LeoLabs' visualisation platform showing the new WASR and the Kiwi Space Radar (KSR) on the South Island of New Zealand. 


WASR is part of a LeoLabs strategic long term business direction. LeoLabs are not only making the investment in the radar site but are committed to establishing a permanent presence in Australia with a growing team of Space and Defence experts in LeoLabs Pty Ltd Australia; led by retired Air Commodore Terry van Haren DSM. Terry van Haren is a former Commander, Director, fighter pilot, veteran and in his last posting was the Air and Space Attaché in the USA. He established and led the Australian Embassy Interagency Space Working Group and participated in three Schriever (Strategic Space) War Games; leading the contingent in 2019. LeoLabs sees Australia as a future space leader in the Asia - Pacific region and aims to establish an independent Australian business that can grow with the Australian Space Enterprise. 
Additionally, the company is offering to invest further in Australia with the manufacturing and development of LeoLabs next-generation modular space radar system under the Federal Government's Modern Manufacturing Initiative Collaboration Stream. LeoLabs Australia is collaborating with five Australian companies: Lintek, SRX Global, Ampcontrol Australia, Murray Consulting Solutions, and Restek from the University of Newcastle. Under this proposal, LeoLabs Australia and partners will manufacture under license and then build: (1) LeoLabs first 2D modular LEO space radar in the Northern Territory; and (2) the world's first commercial Deep Space Radar in north western Australia.  The modular space radar system is described as exquisite technology that will be exported world-wide to LeoLabs sites over an expected ten-year production run, with overall export earning potentially over 400 mil AUD. 
Dan Ceperley, CEO and cofounder of LeoLabs said "this radar site is a massive, visible step forward in LeoLabs' long-term investment in Australia. It started earlier this year with hiring a world-class team led by Terry. This radar site and this team will make Australia a space surveillance superpower and will be the foundation of transparency, sustainability, and deterrence in space for decades to come."
This bold ambition to build a deep space radar follows on from experimentation LeoLabs has performed with the Costa Rica Space Radar in the earlier part of the year. In this experiment LeoLabs was able to show it was able to search, detect and track two large satellites in the GEO belt using a LEO designed low power radar. The results of this experiment were tabled at the AMOS conference in September. Based on these results, system design and modelling, LeoLabs is confident it will be able to scale up the radar power and aperture to achieve small object tracking in GEO with its next generation modular radar system and current architecture. If successful, the commercial Deep Space Radar wil be a strategically important asset as it will be able to maintain 'neighbourhood watch' in the Indo - Pacific region. With potentially three space radars in Australia and the Kiwi radar close by, the project will produce persistent, reliable and responsive radar-based space surveillance and enable LeoLabs to detect and track every object in every orbit (LEO to GEO) in Australia's orbital area of interest.  
LeoLabs Australia also intends to rehost the LeoLabs data platform on an Australian cloud provider to provide sovereign control, national resilience and redundancy in even the most challenging cyber environments. With the LeoLabs data platform hosted in Australia, LeoLabs Australia will provide the local space industry with a unique opportunity to gain customised products and services and benefit from this dynamic mapping product for space. The platform is designed for either web client access, command line interface or direct machine to machine data transfer through the application programming interface (API). The output should be a service that offers the Australian Space Industry a strategic data advantage that will enable services such as dynamic launch, collision assessment on launch, early orbit processing, plus our other regular services such as track and monitor and collision avoidance. Our aim is to enable the entire Australian Industry to realise benefits that amount to hundreds of millions of dollars in potential future export and space revenues. 
With its growing network of phased array radars and cloud-based data platform there is no doubt that LeoLabs will transform SDA in Australia. Transparency will drive safe, sustainable and secure space operations and will propel Australian industry growth, enabling billions in new revenues in adjacent sectors. 
About LeoLabs.
Founded in 2016 as a venture-funded spinout of Silicon Valley research pioneers SRI International, LeoLabs provides access to critical mapping and SDA data for Low Earth Orbit (LEO). LeoLabs today serves regulatory and space agencies, commercial satellite operators, defence, and scientific/academic organisations that are driving generational change in LEO. LeoLabs' core technology includes a patent-pending global phased-array radar network which tracks debris and satellites in LEO. Observations generated from this network are the foundation of the LeoLabs mapping and SDA software platform providing timely and accurate orbital and situational data.
Further information on LeoLabs is available at www.leolabs.com.au
Receive the latest developments and updates on Australia's space industry direct to your inbox. Subscribe today to Space Connect here.