Dr Chris Boshuizen said seeing the planet down below created a sense of momentum and energy he had never experienced before. "Looking out of that horizon, I literally felt like I was being pulled over the edge of the earth."
Dr Boshuizen, who grew up in Tumbarumba in NSW, quietly became just the third Australian ever to fly into space on 13 October, alongside Star Trek's William Shatner, in a launch that made global headlines.
The full interview on the Space Connect podcast will be released on Friday.
On Wednesday, 13 October, four crewmembers, including Shatner, blasted off to the Karman line – widely recognised as the boundary of space, 100 kilometres from the Earth's surface.
It was the second crewed spaceflight on Blue Origin's New Shepard spacecraft, following its historic launch on 20 July.
Dr Boshuizen told presenter Bella Richards he sent a proposal to Blue Origin years ago to climb onboard one of the first crewed spaceflights.
"I just wanted to be part of that, so I pestered them for a while," he said. "I really wanted to be an ambassador for this new movement about space opening up, and the democratisation of space."
After being persistent, he received the call in March asking if he would like to join the second flight.
"I think because I was persistent there, I got the call," he said.
Dr Boshuizen has been a part of the space industry for years, initially completing his PhD in physics at the University of Sydney. 
He then moved to the United States to become a Space Mission architect at NASA's Ames Research Center from 2008 to 2012.
He also co-founded Planet Labs – an Earth imaging company – in 2010 and served as the chief financial officer for five years, and during his time launched over 450 nanosatellites into orbit.
Leading up to the New Shepard NS-18 spaceflight
Dr Boshuizen said his partner, Vanessa, was shocked when he got the call, expecting that when he mentioned he dreamed of launching into space, "it was one day", but not this soon.
"You know, everybody knows one day is not today, one day is an arbitrary date in the future," he said.
He said he got cold feet at times, recognising his fears because he had a deep knowledge of rockets from his studies and career, and knew they are an "inherent risk".
He added that before the flight, the crew were at the Blue Origin base in preparation for around 10 days, training and getting to know one another.
The crew mostly endured rehearsals for the imminent flight, specifically learning the basics of how to move in zero gravity.
"What we did need to do though was, for safety reasons, learn how to get into a seat in zero gravity," he said. "A lot of it was training and trying to imagine how to get into a seat in weightlessness."
While his dream of going to space was fulfilled, he said he "could have turned around and walked out without getting to space" and still would have "had a transformative life experience". 
The spaceflight
Blast-off occurred at 10:49am EDT (1:45am AEDT) from West Texas, and the flight lasted just over 10 minutes.
Dr Boshuizen had dreamed of going to space since the 1980s, when he spent time watching Carl Sagan's Cosmos on television – a series presented by Sagan, an American astronomer and scientist.
"When we flew, I just had this really big sense of connectedness," Dr Boshuizen said. "I felt almost embarrassed when I got down to the ground that I didn't have the words."
Dr Chris Boshuizen has touted he is set on going on another spaceflight in the future, especially as space tourism continues to gain traction. 
Dr. Boshuizen is also a music composer, under the name Dr. Chrispy. He recently released two songs with British actor Stephen Fry, and you can find them here. 
More about his spaceflight will be revealed in the Space Connect Podcast on Friday.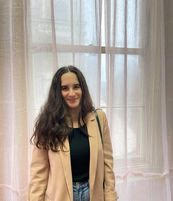 Bella Richards is a journalist who has written for several local newspapers, her university newspaper and a tech magazine, and completed her Bachelor of Communications (Journalism) at the University of Technology Sydney in 2020. She joined Momentum Media in 2021, and has since written breaking news stories across Space Connect, Australian Aviation and World of Aviation.
You can email Bella on: [email protected]
Receive the latest developments and updates on Australia's space industry direct to your inbox. Subscribe today to Space Connect here.