Guests on board the NS-19 was the first American astronaut Alan Shepard's daughter, Laura Shephard Churchley, and co-host of Good Morning America Michael Strahan.
The RSS First Step Capsule launched on Saturday 11 December, and alongside Shephard Churchley and Strahan were paying customers Evan Dick, Dylan Taylor, Cameron Bess and Lane Bess.
The six lifted off from Launch Site One in Van Horn, Texas at 9am CST towards the Karman line – known as the boundary line of space – and returned to Earth in just over 10 minutes.
"We had a great flight today. This was our sixth flight in what has been a great year for the New Shepard program," said Blue Origin chief executive Bob Smith.
The launch follows two previous ones this year, seeing founder Jeff Bezos on the first flight in July, and Star Trek's William Shatner on the second one in October.
"We flew 14 astronauts to space, flew a NASA payload flight that tested lunar landing sensors and completed our certification test flights," added Smith.
"I am so proud to be part of this dedicated and hardworking team that ensures that each and every flight of New Shepard is safe and reliable. And, it's fun to say that this is just the beginning."
The launch marked Blue Origin's 20th successful crew capsule landing, including every flight in its program.
Laura Shepard Churchley – whose father is the namesake of the New Shepard – said before the launch: "I kind of feel a little bit like I'm following in my father's footsteps."
Alan Shepard was the second person and first American to travel to space in 1961, and also became the fifth to land on the moon in 1971.
Shepard Churchley has dedicated her life to promoting her father, according to Blue Origin, and serves as the chair of the Astronaut Scholarship Foundation Board of Trustees, raising funds to enhance STEM careers.
Michael Strahan was asked to be a part of the third Blue Origin spaceflight, and as a crew member he received a stipend which is being donated to The Boys & Girls Club, an organisation providing after school programs for children.
"It was unbelievable … It's hard to even describe it and its going to take a little bit to process it, but it couldn't have gone better," said Strahan in a video on Twitter after the spaceflight.
Paying customer Cameron Bess, who is a content creator for social media and studied computer science and game design, became the first pansexual to be a part of a spaceflight.
Their mission was to "represent marginalised communities and hopes their journey can inspire others", according to the company.
"It's certainly an honour to be one of the first LGTBQ+ people in space," Cameron Bess said in a Blue Origin video.
Cameron also flew with their father Lane Bess, and they became the first parent and child to reach space together.  
Blue Origin said in a Tweet before the launch the NS-19 mission was dedicated to Glen de Vries, who was on the previous spaceflight, but died in early November in a plane crash.
"We dedicate the #NS19 flight to the memory of Glen de Vries. His passion and dedication will not be forgotten. #AdAstra Glen," Blue Origin tweeted.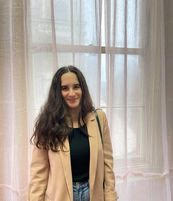 Bella Richards is a journalist who has written for several local newspapers, her university newspaper and a tech magazine, and completed her Bachelor of Communications (Journalism) at the University of Technology Sydney in 2020. She joined Momentum Media in 2021, and has since written breaking news stories across Space Connect, Australian Aviation and World of Aviation.
You can email Bella on: [email protected]
Receive the latest developments and updates on Australia's space industry direct to your inbox. Subscribe today to Space Connect here.