It is part of a collaboration with Electro Optic Systems (EOS), a defence and space company, and The Andy Thomas Space Foundation, an organisation advocating for Australia's space domain.
Applicants were required to submit a short research project proposal, including the potential impacts their study could have on Australia's space community.
"EOS has long been committed to developing the next generation of space scientists and engineers to ensure the success and sustainability of the space industry in Australia," said EOS CEO Craig Smith.
"These awards are one way that we try to promote excellence and inclusiveness in STEM studies," Smith added.
Lauren Fell was the first winner announced, and her proposal was called "Quantum-like Holistic Modelling of Trust Decisions in Mars-Analogue Conditions".
She said in orbit, there are numerous aspects of trust taking place; whether it's with crew members, ground control, the ground beneath or other surrounding factors.
According to Fell, her research is about applying models of holistic and intuitive thinking that can impact trust decisions in a "high uncertainty, high consequence environment" such as space travel.
The second was Sabrina Slimani from the University of Adelaide, who's proposal focused on "Using Entangled Photons to Remotely Synchronise Clocks".
She said synchronising clocks in space is useful for telecommunication networks, accurate timestamping and location positioning.
Deploying clocks with the same time and same rate will further the "security" between ground control and astronauts, Slimani said. 
The third winner announced was Skevos Karpathakis, and his proposal was called "Coherent Free Space Optical Communications and Atmospheric Stabilisation System Development".
Optical communications are communications carried on an optical rather than a radio wavelength – which is how astronauts can communicate with Earth.  
In NASA's context, optical communications use light to transmit information over long distances by using lasers instead of radio frequencies. 
Karpathakis said as the space population grows, optical communications can more efficiently increase bandwidth and data speed in transmitting information back down to Earth.  
The last winner announced was Joshua Critchley-Marrows, and his study was called "A Return to the Stars in an Age of Navigation Uncertainty".
With a team of researchers from the University of Sydney, Critchley-Marrows will "develop and launch a novel, competitive and accessible star tracker platform for small satellite systems".
He said his PHD was founded on applying the system to the challenges faced with global navigation satellite system's today – "an alternative to system navigation timing," Critchley-Marrows added.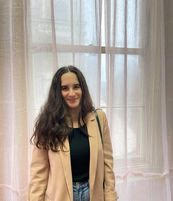 Bella Richards is a journalist who has written for several local newspapers, her university newspaper and a tech magazine, and completed her Bachelor of Communications (Journalism) at the University of Technology Sydney in 2020. She joined Momentum Media in 2021, and has since written breaking news stories across Space Connect, Australian Aviation and World of Aviation.
You can email Bella on: [email protected]
Receive the latest developments and updates on Australia's space industry direct to your inbox. Subscribe today to Space Connect here.