It comes as key representatives from Japan, India, the United States and Australia's space agencies discussed space exploration and collaboration at the Sydney Dialogue on Friday.
The four countries form the Quad, which is an allegiance created in 2007 between the nations for collaborating on military, technology and supply chain capabilities.
"There are great benefits that are occurring here on Earth as a result of [commercial space]," said Pam Melroy, NASA's deputy administrator.
"That's not actually why those billionaires did it, although they have that opportunity, really, the investment is there for the long-term potential," Melroy added.
Commercial space travel has reached new heights this year, following numerous space giants launching civilians into space for the first time.   
Virgin Galactic, owned by billionaire Sir Richard Branson, completed its fourth commercial suborbital spaceflight in July with Branson on board, nine days before rival Jeff Bezos' first Blue Origin crewed spaceflight. 
Then, in September, Elon Musk's SpaceX launched its first all-civilian crew into space – dubbed the Inspiration4 mission.
Despite these spaceflights breaking ground in space tourism, many have touted they were merely "billionaire joy rides" due to their high price tags.
A seat on Virgin Galactic's VSS Unity spacecraft starts at US$450,000 – up from the original price of US$200,000, changed in early August.
Meanwhile, a seat on Blue Origin's New Shepard was sold off for nearly $30 million following a five-week auction in June, despite the unidentified person pulling out just before launch.
But Melroy says that the Earth is currently in an "existential crisis" due to climate change, and the "ability to measure and monitor the Earth is actually best done from space".
She said that the momentum has lowered the cost of accessing space and she is "grateful that there are people who choose to spend their efforts on something that … [can be] towards climate change".
Space activity for decades was primarily sustained by government agencies, therefore only allowing highly trained astronauts reach orbit.
Dr Hiroshi Yamakawa, president of JAXA said these launches into space on behalf of billionaire-owned companies have allowed for further contribution of the improvement of human life.
"Seeing ordinary people – traditionally, professional astronauts – now going into space … is expanding the sphere of human activity … by lowering the barriers to space or increasing access to space," he said.
Meanwhile, many industry leaders say it will be decades until space actually becomes affordable for average citizens. 
But in October, Blue Origin announced it was building a low-Earth Space Station for researchers, customers and visitors to use – set for "commercial business" in space to take off. 
The space giant is partnering with Colorado-based Sierra Space to build the station – dubbed Orbital Reef – to begin operating by the second half of this decade.
Blue Origin is set to provide infrastructure for commercial businesses to utilise at reduced costs, breaking down previous barriers of accessing space.
The space station will provide services such as standard interfaces, technical support, planning, payload development, transportation, data analysis, habitation, equipment accommodation and more.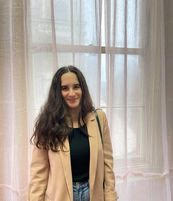 Bella Richards is a journalist who has written for several local newspapers, her university newspaper and a tech magazine, and completed her Bachelor of Communications (Journalism) at the University of Technology Sydney in 2020. She joined Momentum Media in 2021, and has since written breaking news stories across Space Connect, Australian Aviation and World of Aviation.
You can email Bella on: [email protected]
Receive the latest developments and updates on Australia's space industry direct to your inbox. Subscribe today to Space Connect here.