The crew undocked from the ISS at 9:14pm ET and landed on Earth at 12:35am EDT on Sunday, 17 October in Kazakhstan, southeast of remote town Dzhezkazgan, NASA said.
It ended a 191-day journey for cosmonaut Oleg Novitskiy who arrived on the ISS in April, completing three spacewalks during his time, marking his third space mission.
"Thanks to all subscribers for following our expedition," Novitskiy said on Twitter 12 hours before undocking. "As in the last flight, it was very interesting for me to share moments from life at the station with you and to receive feedback."
Thirty-seven-year-old actress Yulia Peresild and director Klim Shipenko arrived at the station on 5 October on board a Russian Soyuz MS-19 spacecraft from Baikonur Cosmodrome.
The film project called The Challenge is a landmark mission in television and space history.
Despite most of the film's details remaining undisclosed, the Russian space agency said it is about a female doctor who has one month to prepare for an important mission on the ISS.
Peresild and Shipenko launched with cosmonaut Anton Shkaplerov on 5 October, but he will remain on the ISS for another six months.  
"Friends, hello from the @Space_Station!" he tweeted. "I congratulate @novitskiy_iss, Klim and Julia on their successful return to Earth! Our ISS crew followed and worried! It was a pleasure for me to work with you for 12 days."
Shkaplerov, who was the mission commander, also played a role in the film according to Shipenko who spoke to Russian news agency TASS before launching to the ISS.
Once the trio landed, they were escorted by helicopters to the recovery staging city in Karaganda, before boarding a Gagarin Cosmonaut Training Center aircraft and returning to Russia.
The mission was mostly a success, aside from a mishap days before undocking where thrusters continued to fire unexpectedly after a scheduled test of the MS-18 spacecraft on 15 October.
It resulted in a loss of altitude control for the ISS for around 30 minutes, until mission controllers were able to stabilise it, NASA said.
NASA said this mission will "mark the expansion of commercial space opportunities to include feature filmmaking," beyond its capabilities as of yet. 
Russia has now officially beaten the United States to filming a movie in space, after rumours surfaced last year about Tom Cruise filming a movie with Elon Musk's SpaceX in collaboration with NASA.
Reports suggest his trip to the ISS for a film could occur soon, but no dates have been set yet.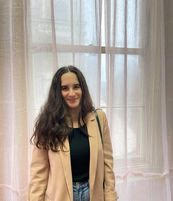 Bella Richards is a journalist who has written for several local newspapers, her university newspaper and a tech magazine, and completed her Bachelor of Communications (Journalism) at the University of Technology Sydney in 2020. She joined Momentum Media in 2021, and has since written breaking news stories across Space Connect, Australian Aviation and World of Aviation.
You can email Bella on: [email protected]
Receive the latest developments and updates on Australia's space industry direct to your inbox. Subscribe today to Space Connect here.