On a Jimmy Kimmel Live! interview this week about his new movie Finch, Hanks said "well, yeah", in response to whether the space giant offered him a spot, "provided I pay".
"You know it costs like $28 million bucks or something like that … I'm doing good Jimmy, but I ain't paying $28 [million]," Hanks said.
Blue Origin's New Shepard successfully completed its second crewed spaceflight on 13 October, seeing 90-year-old William Shatner claim the title of the oldest human in space.
Dr Chris Boshuizen, an entrepreneur and former NASA engineer was also onboard and is now the third Australian astronaut to fly to space.
The crew reached the Karman Line – widely recognised as the boundary of space, 100 kilometres from the Earth's surface – about three minutes and 30 seconds into the flight.
While Blue Origin's seat tickets have remained undisclosed, an unknown auction winner of the first crewed flight on 20 July, which founder Jeff Bezos was on, paid $28 million for the flight.
The unidentified person won the charity auction the month before with a bid of $29.7 million, following a five-week auction and final live-streamed event.
But only days before, the auction winner was said to be unable to attend due to "scheduling conflicts".
Instead, recent high school graduate and self-confessed space fan Oliver Daemen took the final seat onboard the spacecraft.
"We could simulate the experience of going to space right now," said Hanks. "We can all do it in our seats right here. I don't need to spend $28 million bucks to do that."
In response to Kimmel asking Hanks if he would accept the offer for free, the 65-year-old actor said: "I'd do it on occasion just to experience the joy of pretending I'm a billionaire."
Competitor Virgin Galactic, owned by billionaire Sir Richard Branson, completed its fourth commercial suborbital spaceflight in July with Branson on board, nine days before Jeff Bezos' Blue Origin flight. 
Despite these spaceflights breaking ground in space tourism, many have touted these were merely "billionaire joy rides" due to the high price tags.
A seat on Virgin Galactic's VSS Unity spacecraft starts at US$450,000 – up from the original price of US$200,000, changed in early August.
Blue Origin said it is set to fly another crewed flight to space by the end of this year, expecting to complete several more in 2022.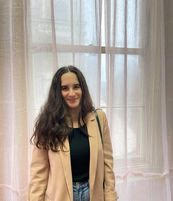 Bella Richards is a journalist who has written for several local newspapers, her university newspaper and a tech magazine, and completed her Bachelor of Communications (Journalism) at the University of Technology Sydney in 2020. She joined Momentum Media in 2021, and has since written breaking news stories across Space Connect, Australian Aviation and World of Aviation.
You can email Bella on: [email protected]
Receive the latest developments and updates on Australia's space industry direct to your inbox. Subscribe today to Space Connect here.